Helen Shvets Appointed as Chief Product Officer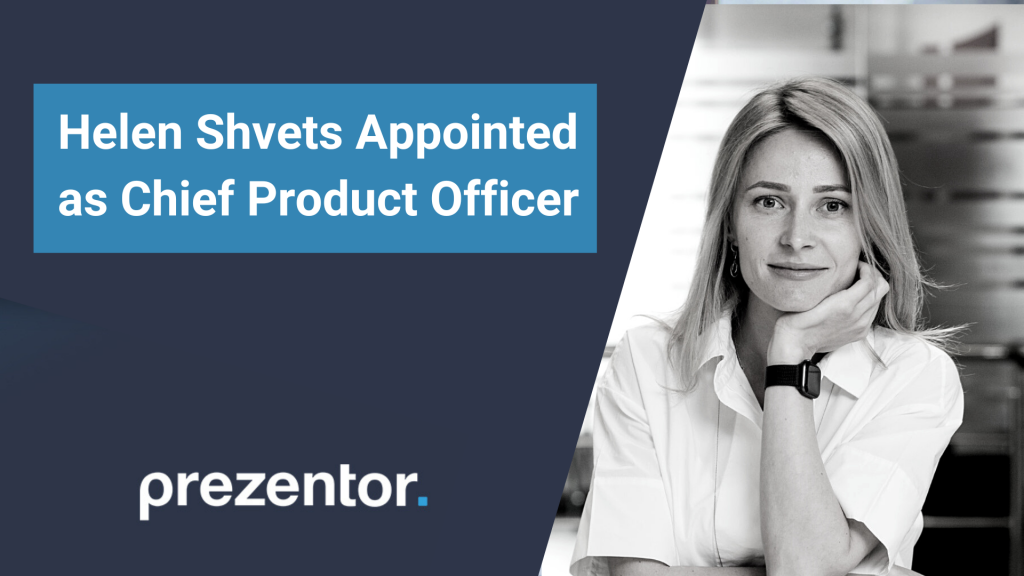 The Board of Directors of Prezentor of pleased to announce the appointment of Helen Shvets
COPENHAGEN, DENMARK – December 19 2022 – Prezentor, the Nordic market leader in sales enablement technology, and the world's only solution that enables organizations to implement value-based selling throughout the entire sales process, today announced it has named Helen Shvets as Chief Product Officer.
The Board of Directors of Prezentor is pleased to announce the appointment of Helen Shvets as Chief Product Officer. Mikkel Filskov, who has been acting Chief Product Officer for the last 4 years will continue as Chief Sales Officer. 
Shvets has more than 10 years of product and development experience, including strategic production development and product management for the past 8 years as Chief Development Manager at Prezentor. 
"Helen is the right person to lead our product advancements and roadmap," said Sara Leander-Pehrson, Prezentor's Chief Executive Officer. "Helen has made tremendous impact during her time at Prezentor to date, and her product management skills should help Prezentor strengthen its product roadmap, modernize the production capabilities and expand our solution range."
"I am very excited to be leading the Product team at Prezentor," said Helen Shvets. "I believe Prezentor has a fantastic product, and the team is a group of innovative, creative, and intelligent who care. As Chief Product Officer I strive to enable our team and customers to achieve even greater success in enabling sales organizations."
Founded in 2013, Prezentor powers smart solutions for effective value-based selling. Our mission is to make B2B organizations more effective by aligning Sales and Marketing, saving sellers up to 75% of their meeting preparation time, generating valuable insights, automating manual CRM tasks, and enabling sellers to create better buyer experiences.
Prezentor's sales enablement platform closes the data gap, creates more intelligent organizations, and more effective Sales professionals. Headquartered in Copenhagen, Prezentor is trusted by thousands of sellers worldwide so they can focus on what they do best: create valuable conversations with buyers.