95% of Sellers don't have enough valuable content to close deals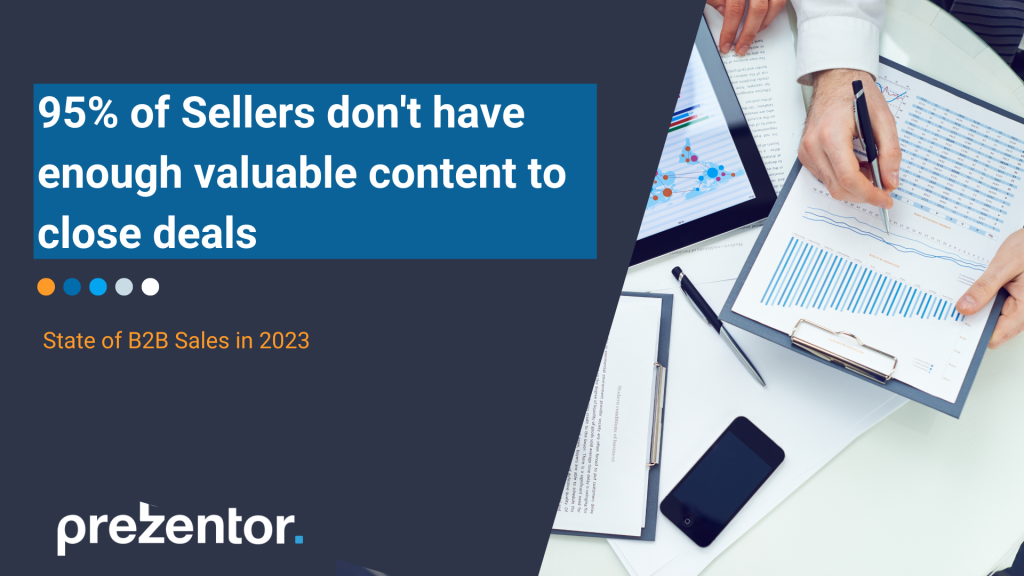 State of 2023 B2B Sales Survey reveals that sellers struggle to engage B2B buyers
COPENHAGEN, DENMARK – January 13 2023 – Prezentor, the Nordic market leader in sales enablement technology, interviewed over 100 Nordic Sales teams in November 2022 to uncover the main challenges Sales organizations are facing. In the "State of B2B Sales Survey", 95% of Sellers stated that their biggest Sales challenge is that they don't have enough valuable content.
"Considering that content creation is an area B2B organizations spend a lot of time and money on, it's shocking to hear that 95% of Sellers don't have enough valuable content" says Sara Leander-Pehrson, CEO at Prezentor. "Sales reps need effective content to convert buyers into customers, as 95% of B2B buying decisions are directly influenced by content."
Prezentor was founded in 2013 with the mission to align Sales and Marketing effectively through value-based selling tools that increase transparency with smart integrations. The launch of their last product, the "Content Hub", was another step in bringing Sales and Marketing closer together by enabling them to find, share, and categorize Sales content easily, while analyzing key statistics on sellers' and buyers' content usage. With effective sales content management and content insights organizations can keep their teams informed, engaged, and aligned like never before.
"Organizations are tired of their Sales content being scattered across several platforms and are looking for more collaboration and alignment between Sales and Marketing. With Prezentor's Content Hub we're pleased to help our customers to work more effectively and bring them more insights" said Sara Leander-Pehrson, CEO at Prezentor.
Download the "State of 2023 B2B Sales" Report here
Founded in 2013, Prezentor powers smart solutions that help companies to create impactful buyer experiences. Our mission is to make B2B organizations more effective by aligning Sales and Marketing, creating more transparency, saving sellers up to 75% of their meeting preparation time, sharing helpful content insights, and automating manual CRM tasks.
Prezentor's sales enablement platform closes the data gap, creates more intelligent organizations, and more effective Sales professionals. Headquartered in Copenhagen, Prezentor is trusted by thousands of sellers worldwide so they can focus on what they do best: create meaningful relations with buyers.