While an ROI calculator do the obvious — illustrate the return on investment — they actually offer so much more. An Impact calculator alike visualize the value prospects gain when investing in your product or service. Solely pitching the benefits of the product and the potential ROI is a sales tactic of the past. Now, sales reps are enabled to illustrate the infallible value of the investment to the prospect.
Consequently, an ROI calculator is an inbound marketing tactic. Leveraging inbound marketing strategies attracts the right leads to your brand and helps turn them into qualified sales leads. Essentially, sales teams need to leverage inbound marketing tactics to improve their sales meetings. In this article, we're explaining how an ROI calculator do just that.
ROI calculators as an inbound marketing tactic
Inbound marketing is a methodology that helps to qualify leads by creating valuable content and experiences tailored to individual prospects. Through lead generation strategies like blogs, website content, social media, webinars, and more, leads are attracted to the brand. Likewise, incorporating an ROI calculator on your website attracts leads and provides them with the value they need to continue down their buyer's journey.
An ROI calculator incorporate the prospect's specific information to produce the right ROI results. This creates a highly personalized experience for the prospect and increases sales win rates. Furthermore, personalized content keeps the consumer interested and engaged with your brand, which makes your sales strategy more effective. Think about it this way, an ROI calculator put your prospects in the shoes they'll be in once they invest in your product/service. Take a look at the insurance
In the picture above, you can see what the payout would be for a potential customer. This prospect, who makes $75,000 a year and has two kids among other criteria, is able to see his insurance payout before purchasing insurance. Through our research, we know interactive and personalized sales content can be up to 25 percent more effective in communicating a message than traditional presentations. By providing the prospect with a personalized sales dialogue, the more likely sales reps are to get the win.
Ultimately, creating personalized experiences with an ROI calculator increases a sales rep's chances of getting the prospect to buy at a higher sales point and repurchase. And don't forget, highly personalized sales experiences increase customer satisfaction and loyalty. Sounds like a win-win, right?
Benefits of using impact calculators in sales meetings
While an ROI calculator is a great way to qualify leads, they're also a notable resource for sales meetings. Sales reps often get a bad reputation from being overly pushy. A HubSpot study shows that only 17% of salespeople think that they themselves are pushy. Meanwhile, 50% of prospects think sales reps are too pushy. With an ROI calculator, the numbers do all the talking. These calculators visualize a prospect's savings and the value of your business' solution without overselling.
For example, let's say you add an ROI calculator to your sales presentation to illustrate a pension structure. Take a look at the example below. Leads can use sliders to input the applicable information — investment amount, etc. — into the calculator. Depending on certain factors, the ROI calculator visualizes the prospect's return on investment in real-time. The sales rep doesn't need to go on and on about the benefits of this pension plan, the prospect can see the advantages! Not to mention, the interactive presentation makes talking about tedious topics like pensions fun.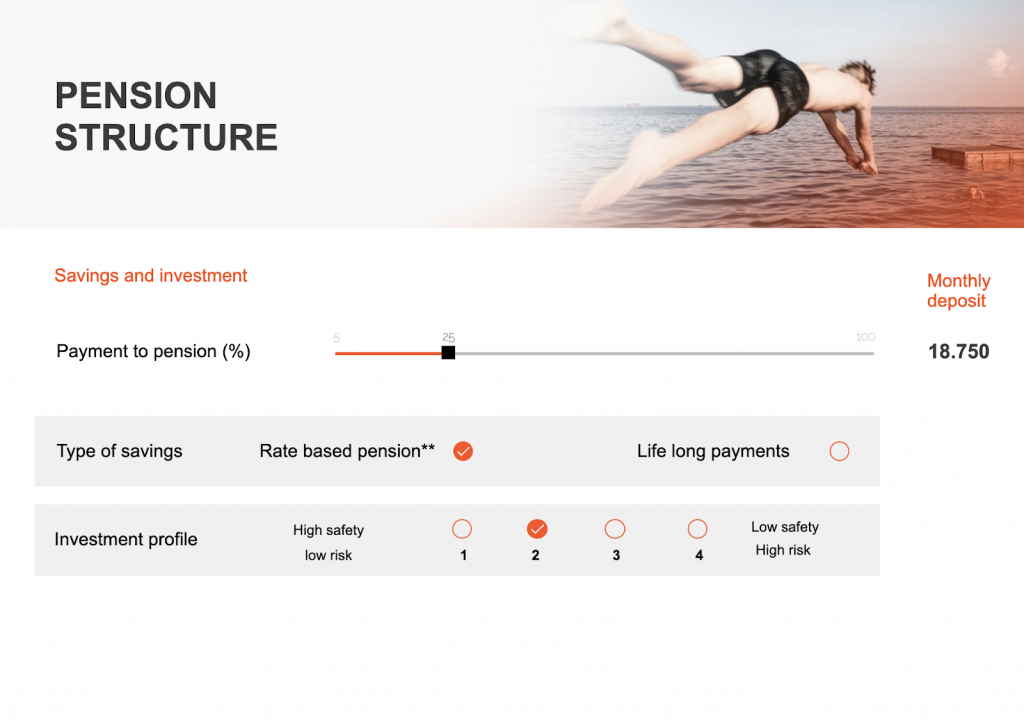 On the other hand, an ROI calculator also benefit the sales rep. These calculations help the sales rep determine whether or not they have a strong chance of making a sale. Offering a one-on-one meeting where a sales rep can walk the prospect through the ROI calculator is also a great lead generation strategy. Not only will the lead gain information regarding their return on investment, but the sales rep will also gain valuable insight on the lead.
An ROI calculator help you collect rich customer data
An ROI calculator is one of the best ways to obtain customer data. Customer data includes email addresses, information the customer gives within a survey, geographic location, and more. Having a collection of customer data helps boost your sales meetings moving forward. For instance, let's say during a virtual sales meeting, the potential buyer of a SaaS tool stated they only need 20 users per month. However, the data shows that when they were viewing the presentation on their own time, they were actually inputting 40 users per month. With this knowledge, a sales rep is then confidently able to try and upsell the buyer in their next meeting.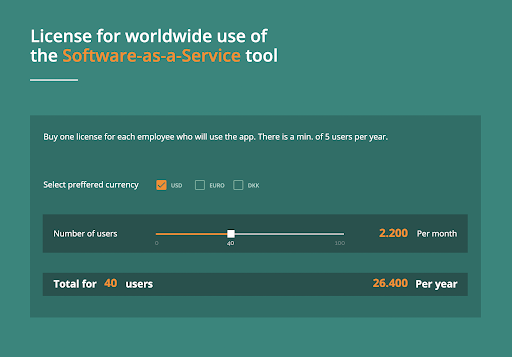 Moreover, with customer insights from an ROI calculator, sales reps are better equipped to address the prospect's pain points and offer a solution tailored to their needs.
How to build your own ROI calculator
The right sales enablement platform will enable you to create your own ROI calculator. The criteria your prospects will need to input into the calculator is based on the products and services you offer. So where do you get started? First, look for a sales enablement platform that offers the ability to create a custom ROI calculator with an infinite number of input fields.
Got one? Great! Most ROI calculators will require a bit of knowledge about Microsoft Excel formulas. If you have no experience with Excel, see if your sales enablement platform offers a formula cheat sheet. These formulas are used to calculate the dollar amount or percentage of the prospect's potential ROI.
Below is a video explaining how our customers are able to create an ROI calculator with the Prezentor platform.
As you can see in the video above, there are hundreds of ways to create value calculators. And remember, an ROI calculator visualize the value your product or service provides to customers — the time saved, the money saved, and the revenue generated.
Now, let's take a look at another example. The video below shows a calculator that helps determine how many coffee machines a company needs. Based on the number of employees, office locations, and average cups of coffee all employees drink per day, the calculator illustrates the number of coffee machines necessary for an organization to purchase. So, for a company that has 200 employees scattered across two locations and, on average, each employee drinks two cups of coffee a day, it's estimated that the organization needs to purchase 4 coffee machines.
Additionally, let's take a look at two more examples of ROI calculators. The first video showcases an ROI calculator that poses the hypothetical question, "What if you could increase your conversion rate by 1%?" This calculator shows the immediate value of investing with the seller. With just a 1% conversion rate, the prospect's sales increase by 75,000 euros per month. From here, the seller could even increase the conversion rate to 2% or 5% within the calculator. With each potential increase in conversion rate, the value of the seller's service becomes more and more valuable.
Finally, this last video illustrates an ROI calculator that begs the question, "What impact would an increased win-rate of 27% have on your company?" This is a super helpful value calculator for sales reps. It allows them to visualize their ROI if they invested in Prezentor's sales enablement platform. Essentially, for a company with a monthly revenue of 22M DKK, an increased win-rate of 27% enables them to achieve an additional 5.9M DKK per month in revenue. That's an additional 71.3M earned in revenue per year! Impressive, right? That's just the power of ROI calculators.
Using an ROI calculator is a great inbound marketing tactic that will undoubtedly improve your sales meetings. By presenting prospects with an extremely detailed view of what your business can do for them, you're creating a highly personalized experience. Primarily, an ROI calculator enable sales reps to focus on a prospect's main pain point and illustrate the value of the solution. In the end, prospects are able to see the value in saving time and money as well as improving profit.
Curious to see how an ROI calculator and other value calculators can impact your bottom line?
Request a demo with our team and transform your sales now!