Prezentor is delighted and proud to have been awarded the "High Performer" badge, both in the general and mid – market categories, and the "Best Support" badge in mid – market in summer 2022, with user ratings of 9 for "Ease of Use" and 9.4 for "Quality of Support".
We would like to thank our customers: all of this wouldn't have been possible without their constant support and kind reviews.
Today's B2B customers tend to spend most of their time researching independently before making a purchase decision. Online reviews are therefore an essential part of the buyer journey ; statistics show that 92% of B2B buyers are more likely to purchase after reading a trusted review .
G2 is a B2B software review site , that every year releases a list of the best performing companies, based on customer satisf action and market presence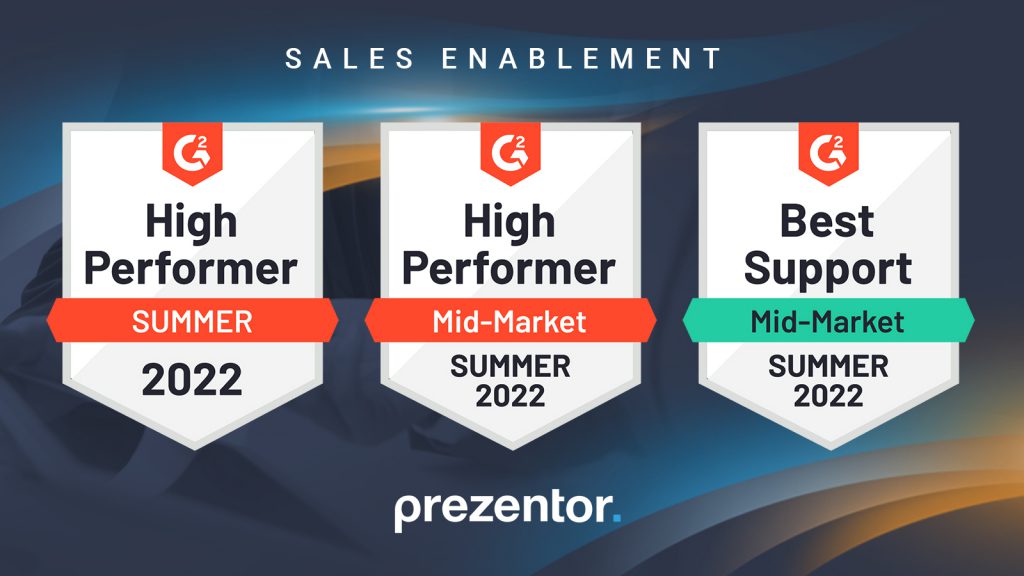 The High Performer badge is given to software vendors with high customer satisfaction scores.
The Best Support award is proof of our exceptional customer service and the way we listen to our customers to meet their needs and requests.
What users love and mention most about Prezentor:
Ease of use
The possibility of creating interactive presentations
Ease of follow up
Automations
Here are some comments shared by our users:
"Easy to use platform that allows you to track end-user engagement in presentations"
"Helps us make better sales pitches"
"It is the tool of the present and the future of sales"
Want to know more about how Prezentor makes life easier for its clients? Read more reviews on our G2 profile and/or get in touch to book a demo. Already our customer? We would love to hear your feedback – please, leave us a review.