Your sales material all in one place – easily organized, tracked, recommended, and rated!
Content is an essential part of the sales process. If you are in the business of B2B sales, you will likely spend a considerable amount of your time finding the right files – reports, cases, and quotes – to send to potential buyers as they progress through the sales funnel. This can often feel like a chore, especially when you are sending large files, that may take a while to upload or even require the use of specific file-sharing software.
Sales reps can spend as much as 40% of their time searching for, or creating, content to share with buyers. What's more, according to Forrester, 65% of the content B2B organizations spend so much money and time on goes unused, generally because it is hard to find or it is simply not relevant.
With this dilemma in mind, at Prezentor we have worked hard on a new and improved content management solution, that is now available to all our customers!
With the Content Hub you can:
Find all available sales content in one place
Easily filter the content to find exactly what you are looking for
See what the most popular and trending content is amongst your colleagues
Send feedback to the marketing team by rating the content you use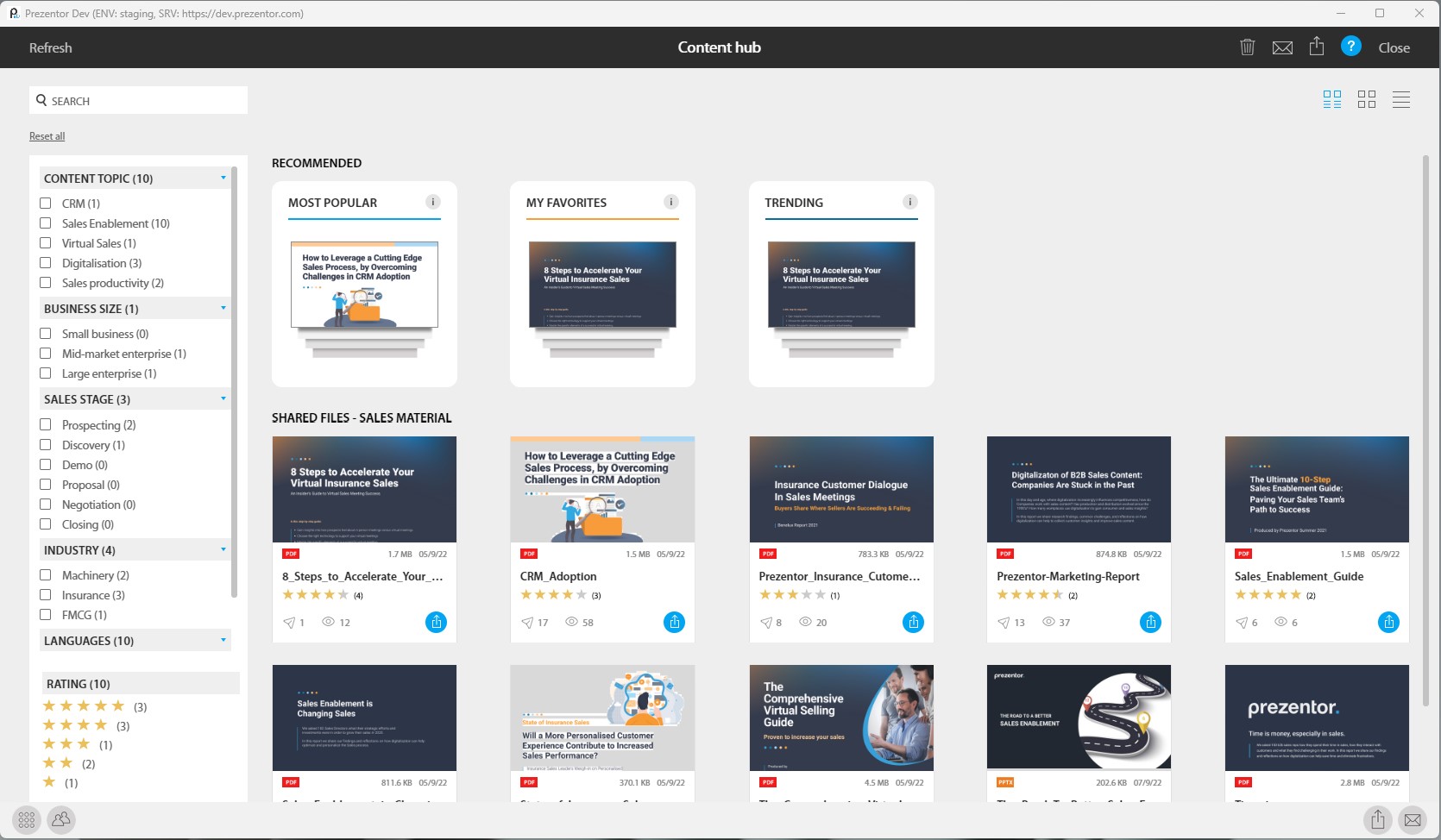 What's New With the Content Hub
With Prezentor's content hub, all sales material is stored in one central library, where it can be categorized for easy access. Recommended content is shown first, so you can get a quick overview of the most popular and trending documents in addition to your favorite content.
1. Use tags to find relevant content quickly
You can add and edit categories and tags and assign them to your files. Then, with a few clicks, you can filter files to find what is most relevant for the buyer based, for example, on topic, industry, sales stage, and so on.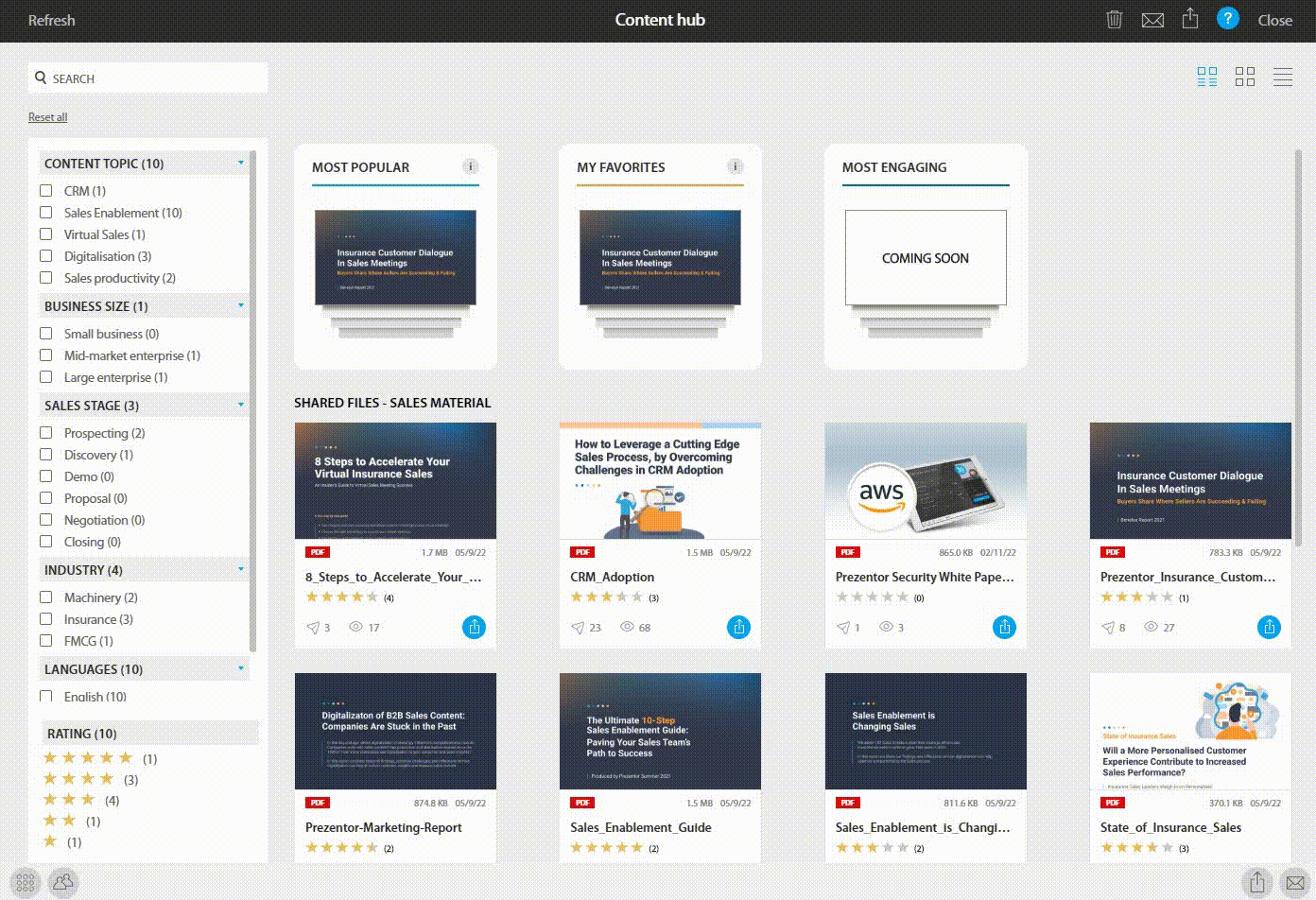 2. Rate content to show your colleagues what you like most
The new rating feature enables you to share feedback with your colleagues, and give input on content to your marketing team.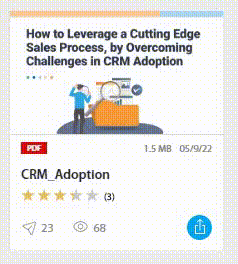 3. Conveniently share files via links
No more waiting for big files to upload every time you send an email! Did you know that emails with attachments are more likely to get caught by spam filters? With Prezentor's link-sharing feature, attachments are a thing of the past! Generate and copy a link with just a few clicks, then share it via your preferred method.
4. Convert any document into a fully trackable file
You can now convert any file into a trackable Prezentor file, making sure that you know exactly if the file has been opened, how the recipient interacted with the file and what slides caught their attention.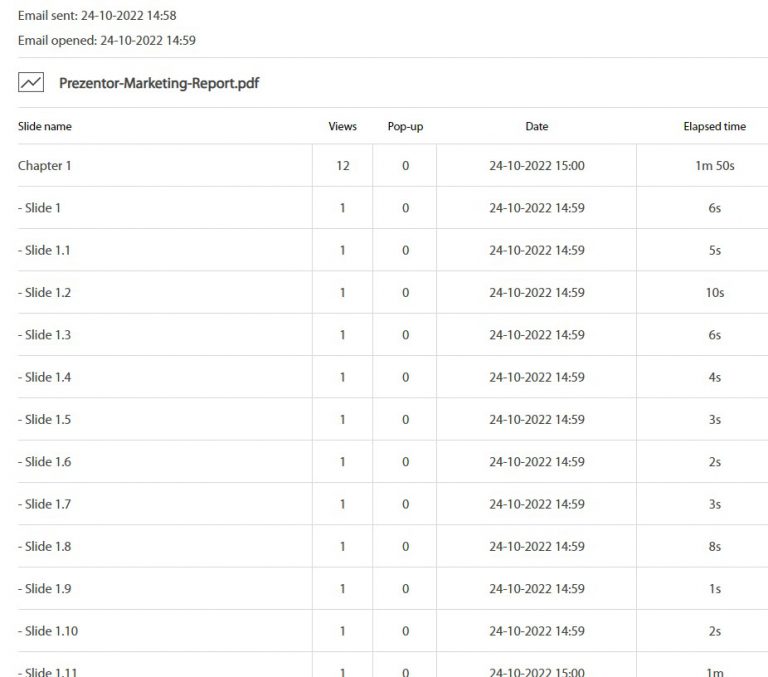 How to unleash the power of the Content Hub?
Tag, rate, share – in a word, use the Prezentor content hub regularly to enjoy accurate and useful insights on the content itself and your buyers' engagement.
Watch the following videos for tips and tricks on how to get started!
Gain all the advantages of a centralized content management system – start using our Content Hub today!
If you are a Prezentor customer, you have already access to the new Content Hub and you can start enjoying all the advantages it offers:
Save time by finding the right content more quickly and easily
Get insights on content quality to improve content production
Track file usage to understand your buyers
Contact customer support if you need help getting started! 
Curious about what Prezentor can do for you? Request a demo and discover the full advantages of our sales enablement platform.