Welcome to our ultimate guide to sales enablement!
Maybe you have just heard of sales enablement and are curious about the topic, or maybe you want to implement a sales enablement strategy for your business but are not sure where to start – either way, we've got you covered.
This guide gives a comprehensive overview of sales enablement and the advantages it offers, plus tips and advice on how to get started.
We will cover the following topics:
What is Sales Enablement?
Why is Sales Enablement Important?
What are Sales Enablement Activities?
What is Sales Enablement Content?
What are Sales Enablement KPIs?
What are Sales Enablement Tools?
What is Sales Enablement?
Sales enablement is the people, processes, technology, and data that enable your sales organization to sell at a higher velocity and more effectively. It is about easing sales and productivity with the same people, same company, same products and services, but with a different approach.
Sales enablement is a strategic collaborative discipline designed to increase predictable sales results.
It is all about providing your salespeople with the content, tools, and knowledge they need to maximize their productivity and add value to every customer interaction.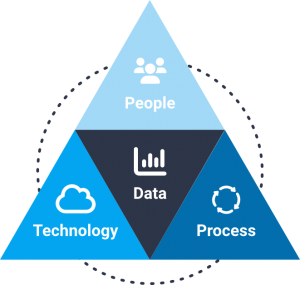 Why is Sales Enablement Important?
Sales enablement helps your sales team have a more effective sales process and increase their win-rate. By creating a sales enablement strategy, your organization is having a specific focus on the tools, assets, guidance, and processes your sales team needs to work efficiently and improve results.
It is important to note that creating and implementing a sales enablement strategy is an exercise hat needs to involve several functions within your business, such as Marketing, Sales, Sales Operations, Marketing Operations, Revenue Operations, Customer Success, Customer Growth, and Business Development. Sales enablement will align these functions to push towards a common goal across the entire buyer's journey.
A good sales enablement strategy will:
Provide easy access for sellers to the right content
Connect sellers to the most relevant content for each buyer engagement
Keep buyers engaged through value-based communication
Ensure a consistent brand strategy
Give an overview of what content sellers use
Ensure best practices and consistent messaging across your sales organization
Turn sellers into experts through continuous coaching
Speed-up onboarding and ramp-up time through guidance materials
The Advantages of Sales Enablement
What are Sales Enablement Activities?
Sales enablement is about aligning Marketing and Sales to maximize sales efficiency and consistency. Both the marketing and sales teams affect a buyer's experience; by working together in alignment, Marketing and Sales can streamline the buyer's journey, thus increasing sales velocity overall.
A good sales enablement strategy should include the following activities:
Building a content strategy based on buyer insights
Standardizing onboarding processes and speeding up ramp-up time
Creating a clear process for lead qualification based on sales analytics
Developing a strategy for your tech stack to increase sales automation
Creating a strategy for upsell and cross-sell activities
A Sales enablement content strategy should help both the marketing and sales departments determine how the content should be designed, created, and managed.
      5-Steps Content Strategy:
Understand your customer

Map the customer journey from your buyer's perspective
Understand your customers' pain points
Understand the value your product/service brings to your customers

Set clear goals
Common goals include:

Increase win rates for sales opportunities
Improve customer experience
Increase available selling time
Decrease new hires' ramp-up time
Reduce sales cycle length

Assess your existing content

Determine who creates all the content currently used by sales
Map all your content to the various stages of the buyer journey
Determine what content is working well and what needs to be improved

Develop and implement your strategy

Assess if additional tools such as a sales enablement platform need to be implemented
Identify what platform is best suited to your goals
Develop the necessary content and materials
Involve the sellers and managers in all steps of the process
Test on a small group before a full roll-out
Adjust after the testing phase and roll out fully

Measure, analyze, improve

Exploit the usage and performance data from your sales enablement platform to continuously improve and align sales and marketing
No matter how much experience a new seller may have, each company performs its sales tactics differently. Therefore, every new seller will need to undergo the proper training to adopt their new employer's way of selling. This can become a long and arduous process; however, the right sales enablement strategy can help onboard sellers quickly, and speed up ramp-up time.
Ramp-Up Time: The amount of time it takes a new salesperson to become fully productive from when they are first hired. Ramp-up includes initial product training, sales coaching, and any further onboarding protocol.
To ensure that new sellers are improving their skills early on and having their performances measured often, sales enablement leaders need to help define and manage the onboarding process.
Sales enablement leaders, with the help of effective sales enablement technology, can speed up the onboarding process. Here's how:
   Sales Enablement Leaders:
Create checklists with to-dos to achieve onboarding goals

Generate sales role-play situations and mock demos

Provide active and relevant feedback to sellers early on

Adjust onboarding and training depending on individual sellers' strengths and weaknesses
   Sales Enablement Technology:
Highlights clear learning objectives, training content, and KPIs

Gives Sales Managers an easy way to track proficiency and competence

Organizes all sales training content in one easily accessible location
The purpose of lead qualification is to determine which of the buyers your sellers are currently in contact with should be prioritized. Lead qualification typically gets assessed based on where in the buyer's journey the potential buyer is, how well the buyer fits the ideal customer profile, and how much interaction the buyer shows with your content.
Lead Scoring: The automatic process of gathering prospect information based on their engagement with the brand as well as information from any data fields they have previously filled.
Most commonly the data needed to qualify leads is collected through marketing automation tools and the CRM, which tracks and updates the stages of the buyer's journey. Many companies assign lead scores based on the buyer's engagement to automate the lead qualification process.
A sales enablement platform can be a great addition to the sales enablement tech stack, as it measures the sellers' interactions with buyers at each touchpoint of the sales process, as well as tracking the buyer's engagement with the content sellers share with them.
The Benefits of Sales Analytics
4. Tech Stack Integration
Advancing your tech stack to implement automations makes your sales team more efficient, especially in their collaboration with other functions within your organization, such as Operations, Marketing, and Business Development. Sales enablement platforms are connected to your CRM and automatically input and update customer data at each stage of the buyer journey. This automation saves sellers time on administrative tasks and ensures the accuracy of data.
But a good sales enablement platform shouldn't stop at CRM integration; it should make it possible to follow the entire sales process, from start to finish.
There are some essential features and functionalities that should be integrated within any sales enablement platform to ensure a seamless workflow.
These may vary according to your specific business needs, but they can include:
Content creation and management

File-sharing system

E-mail functionality

Calendar

Analytics
Some sales enablement platforms already include some of these functions but, where they don't, it is important that they give the possibility of integrating with other software. When it comes to choosing a sales enablement platform, you should consider which areas and functionalities are most important for your organization's goals.
5. Upselling and cross-selling
Having a well-thought-out sales enablement strategy ensures that sellers have the confidence they need to upsell or cross-sell during the sales meeting.
Making sure salespeople have a deep understanding of the entire suite of products and services their company offers is a true game changer. If a prospect changes the dialogue of a sales meeting, the seller needs to be able to follow the buyer's lead; having easy access to all sales content ensures that the seller can quickly find the answer to what the buyer is asking at that specific moment.
When building a strategy for upselling and cross-selling, consider investing in a sales enablement platform that offers the possibility of creating interactive content. Dynamic presentations can be an easy way to allow sellers to upsell and cross-sell seamlessly; as the sales dialogue shifts topics and more questions arise, the seller is able to showcase different offerings to the prospect. ROI calculators are another useful feature that helps sell value instead of just products.
What is Sales Enablement Content?
Sales enablement content is any content that helps you convey your product's value, creates relationships with your buyers, or simply put, enables you to sell more easily.
The type of content you produce can vary greatly according to your industry's specific needs, but it can include:
Interactive presentations

Printed materials

Emails

Reports

Case studies

Testimonials
Differences between Marketing content and Sales content
   Marketing Content
Created with the purpose of attracting new leads and converting them into prospects
   Sales Content
Created with the purpose of giving valuable insights and converting prospects into customers
It is important that Sales and Marketing are aligned and collaborate in creating and managing sales enablement content; this avoids any discrepancies between what is communicated in the marketing content and the materials sellers use in the sales process.
All sales content produced should be readily available to sellers, so they can easily find what they need, when they need it.
Sales enablement content should also be trackable, so that sellers can get valuable insights on whether the buyer has opened the content they sent, and how they have interacted with it. This will enable them to follow up on their prospects at the right time, increasing their chances of closing the sale.
What Are Sales Enablement KPIs?
Once you have a sales enablement strategy in place, it is important to also have a plan to measure its effectiveness.
There are a few metrics to keep an eye on, and they can vary based on your business type, but the main KPIs to measure sales enablement normally include:
Sales data

Conversion rate

Content performance

Sales cycle length

Onboarding time

Retention rate

Cross-sell/upsell success rate
Maybe the most obvious metric to track, but measuring the number of sales, comparing it with previous periods, and tracking it against your targets will give you a good indication of whether your sales enablement activities are starting to bear fruit.
The number of leads converted into customers is another good indication of how effective your sales team is. To gain a full overview of conversion rates we recommend looking at the conversion rates throughout the funnel from start to finish in order to assess at which stages conversion rates are lower.
3. Sales Content Performance
How effective is the content you are producing? Are sellers using it? Are buyers engaging with it? Gathering feedback on sales content is necessary if you want to produce useful and effective content.
It is the time it takes for a lead to become a customer. Sales enablement activities, when effective, should shorten sales cycles to enable sellers to close a higher number of deals within the same time frame.
The time it takes new hires to complete their training and become fully productive is another KPI to keep in mind. Sales enablement should standardize the onboarding process and get new sellers up to speed more quickly.
Acquiring new customers is pointless if you are unable to keep your existing ones. Keeping existing customers is a lot less expensive than acquiring new ones, plus holding on to your customers is a good way to increase their lifetime value and, of course, your revenue.
7. Cross-sell / upsell success rate
Another way to increase customers' lifetime value is to sell them upgrades and/or add-ons. The right sales enablement tools make cross-selling and upselling much easier and increase the number of closed won deals from cross-sell activities.
What Are Sales Enablement Tools?
Sales enablement tools work to increase sales velocity, decrease friction in the buyer's journey, and enable sellers to get smarter with each new buyer interaction. All in all, sales enablement provides the enterprise with a better sense for how to analytically measure win rates across the go-to-market strategy.
To achieve the transformation that a Sales Enablement strategy brings, your Sales Enablement Tools should provide these essential features:
Content management

Content creation

Smarter workflows

Customer relationship management

Business intelligence/analytics
There are some "all-in-one" Sales Enablement platforms that provide their own solutions for some or all of the above areas, while others integrate with existing software within your tech stack.
These are normally centralized repositories where all content is kept updated and accessible to everyone who needs it. They should offer the possibility of assigning access and/or editing rights and password protection, to ensure the right teams access the right files.
Content creation tools are a fundamental part of any Sales Enablement tech stack. They enable you to easily create dynamic content, such as interactive presentations or ROI calculators, that boosts customer engagement increasing your chance of selling.
Tools that create a seamless workflow are, of course, a must. These include:
Agendas and calendars to easily manage your meetings and to-dos

Communication or engagement tools (e-mail, phone, chat, and so on)

Content-sharing solutions

Trading tools – e.g., tools that allow your buyers to make a payment
Customer Relationship Management Tools
A good CRM software cannot be missed when building your Sales Enablement tech stack. It will keep all your customers' and prospects' data and history organized in one place, to ensure a flawless customer experience and build good relationships with your customers.
A CRM software will:
Improve customer retention by creating better customer relationships

Provide a centralized database with all the information on your customers

Offer detailed analytics, so you can easily keep track of your KPIs

Improve productivity by automating some tasks, like drip campaigns, sales reports, etc.

Help qualify leads
Any tools that enable you to get insights on your buyers, your sellers, your content performance etc.
These include CRM software, sales enablement platforms, survey builders, e-mail campaign platforms, and so on.
Such tools will empower your organization to take data-driven decisions, react quickly to the ever-changing customer demands and market trends, and keep improving.
Implementing sales enablement in your organization is a long process, that will require the joint effort of most departments. But it is an effort that will be rewarded with:
Increased productivity
Increased Sales efficiency
Increased customer retention
These are the most important things to remember when getting started:
Make sure all your organization's functions are involved in creating a common sales enablement strategy

Set clear, measurable goals

Have a plan in place to measure the effectiveness of your strategy and adjust accordingly

Build your tech stack with the right technology to support your strategy and achieve your goals
We hope that this guide is a useful starting point to set your organization on the path of sales enablement. If you have questions or want to know more about the benefits sales enablement can bring to your business, book a demo and talk to one of our experts.