Keep your sales team updated anytime, from anywhere
Enable your Sales team to be agile and ready to deliver the best results with Prezentor's content management solution: the Content Hub.
Your sales material all in one place
Did you know that Sales reps cand spend up to 40% of their time searching for, or creating content to share with prospects?

Save time with the Content Hub! Quickly find the most relevant sales material all in one place - easily organized, tracked, recommended, and rated!
Easily filter content to find exactly what you are looking for
Add and edit categories and tags, and assign them to your files. With just a few clicks you can filter all sales material to find what is most relevant to you based on e.g. topic, industry, region, and sales stage.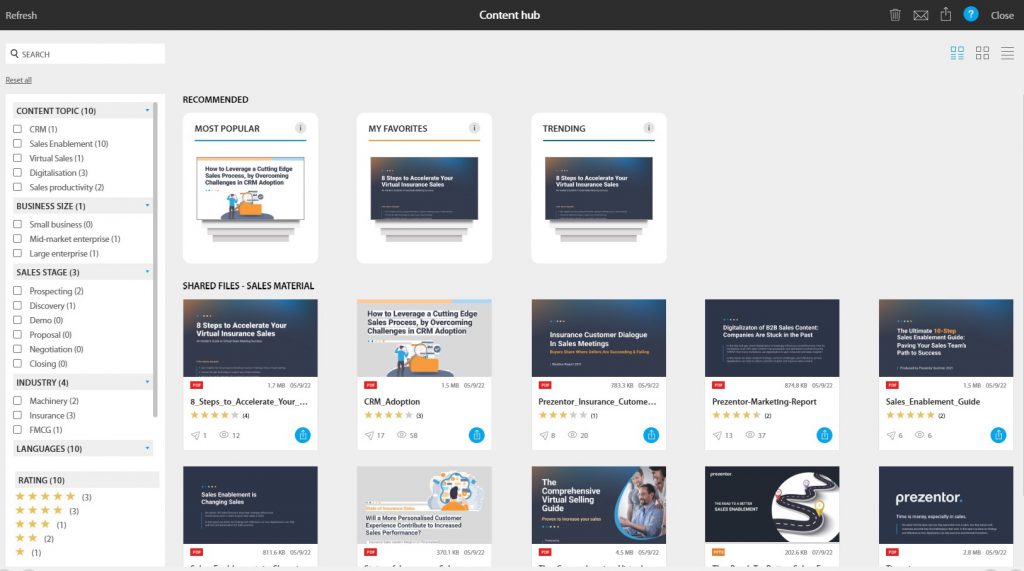 Rate content and share feedback
The Content Hub enables you to rate content and share your feedback with colleagues. You can also see what content your team members like the most, and rely on their recommendations.

You are not happy with the content? Share your feedback and let the marketing team know what kind of content you need - seamlessly and effortlessly.
Conveniently share files via links
Tired of waiting for big files to upload? With Prezentor's link sharing feature you don't need to send files as attachments! From the Content Hub you can generate and copy a link with just a few clicks - and share it via email, direct message or another method.

All Prezentor files are tracked so that you know exactly when the file was opened, clicked, and what the recipient interacted with. That is your chance to unleash the power of your content.


"Prezentor is a software that for us has enabled a standardized sales workflow, that ensures that the salesperson spends more time on the customer problem than on our own product."
Lasse Staal, CEO & Co - Founder, Addifab
Meet the sales enablement tool you've been waiting for