Introducing Prezentor Insights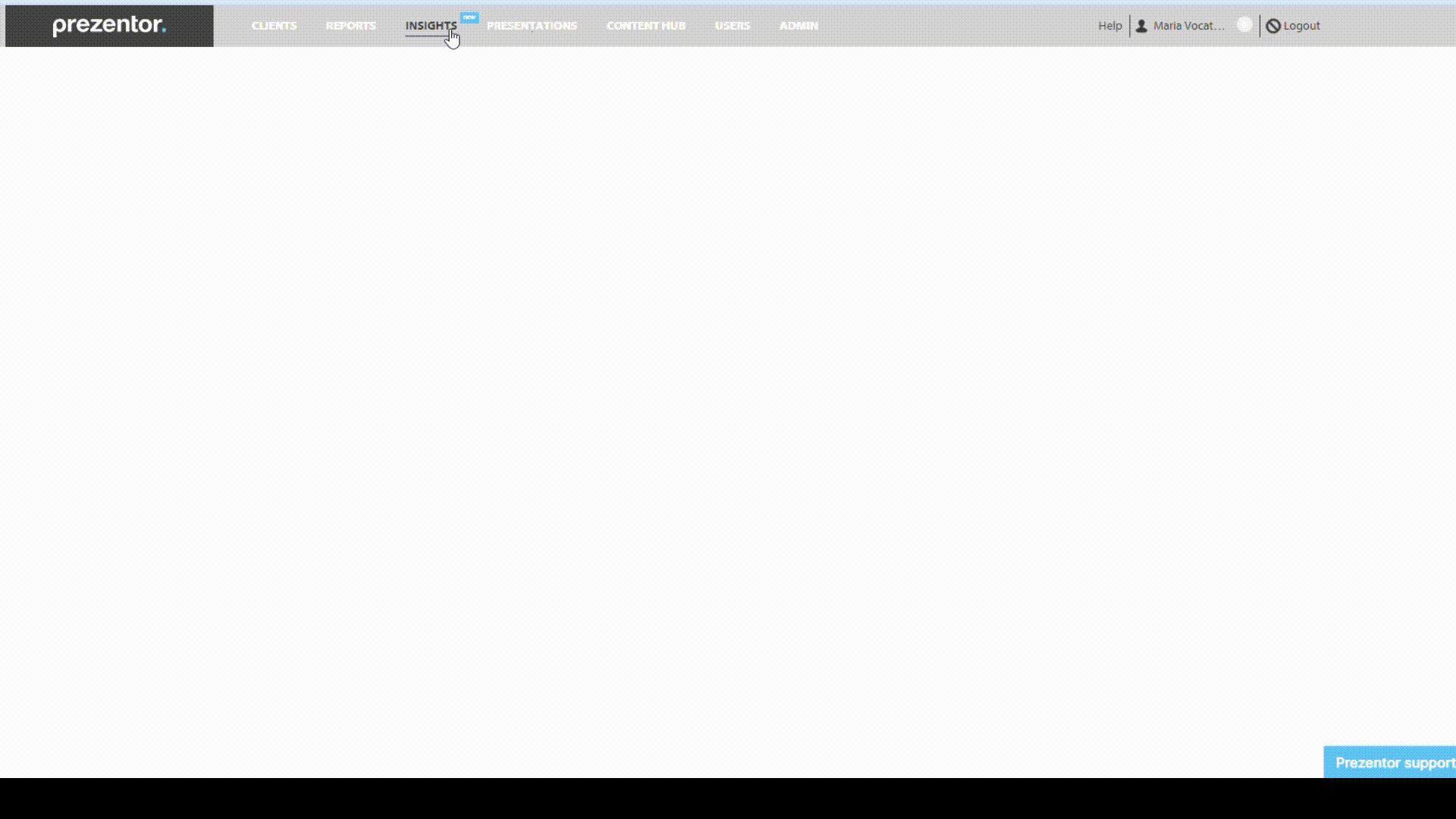 Ever wondered how your company's sales materials are used? Or who are the top-active sellers in your team? And what content gets viewed and shared the most, or generates the most engagement? You can now find the answers to these and other questions in the newly released insights section of Prezentor's web editor. Thanks to this new tool, users can get an overview of the performance of the company's sellers and sales content.
In this article, we will walk you through the unique user activity and content performance data you can analyze with Prezentor Insights.
Who is Prezentor Insights for?
On Prezentor Insights, sellers can see recommended content based not only on what colleagues are using the most, but also on the pieces of content that potential customers find most engaging. Insights on buyer engagement are especially interesting for sellers, as they can even see the specific pages users view the most, giving them unique intelligence on the strengths and weaknesses of the sales content and, by extension, of the product/service they are trying to sell.
Insights for sales managers
Sales managers can gather useful information on sellers' activity. They can see, for example, who the top-active users are, based on the number of meeting sessions, emails, and links shared. They can also see the content each seller is using. This information, cross-referenced with data on sellers' performance in closing deals or achieving quotas, can be very valuable for coaching purposes. Managers can identify areas of improvement for some sellers, as well as top-performers' good practices that should be promoted throughout the business.
The marketing team and content creators can get detailed insights on what content gets used and how. They can see the top-performing files and sales presentations and, for each of them, they get information on the number of views and shares (both internally within the company and externally by end users), the average time spent on presentations, click-through rates, the top 5 pages viewed, etc. This gives the marketing team an idea of what sort of content works best, the topics customers are most interested in, and their pain points. All of this, together with the ratings sellers can give to each file on Prezentor Connect, helps them create better and relevant content.
Insights for sales enablement
Insights are a crucial part of any sales enablement strategy. If a company wants to successfully enable sales, regardless of whether they have a dedicated sales enablement department or not, there are certain key metrics to monitor closely to make sure the company strategy is generating the desired results. Prezentor Insights can help with data on buyer engagement, content usage and performance, and sellers' engagement. These insights can help sales enablement managers to set the right learning objectives for the sales team and each seller. Additionally, they can strengthen the alignment between the sales and marketing functions by creating a dedicated content plan based on the content performance data.
How to use Prezentor Insights
On the Insights dashboard, users can filter their company's data by selecting a time period and one or more specific countries, departments, teams, and individual users.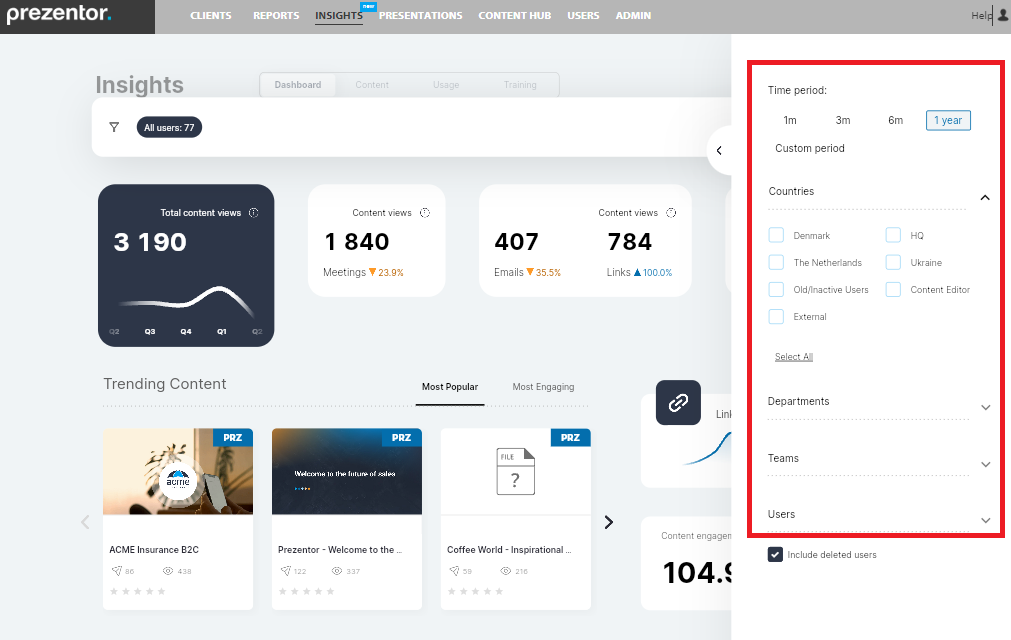 Then, if they have viewing rights, they will see insights related to the user unit and time frame selected about:
1. Content views in total, and content views and shares via meetings, emails, and links

2. Trending content amongst colleagues within the organization, and the content external users find most engaging.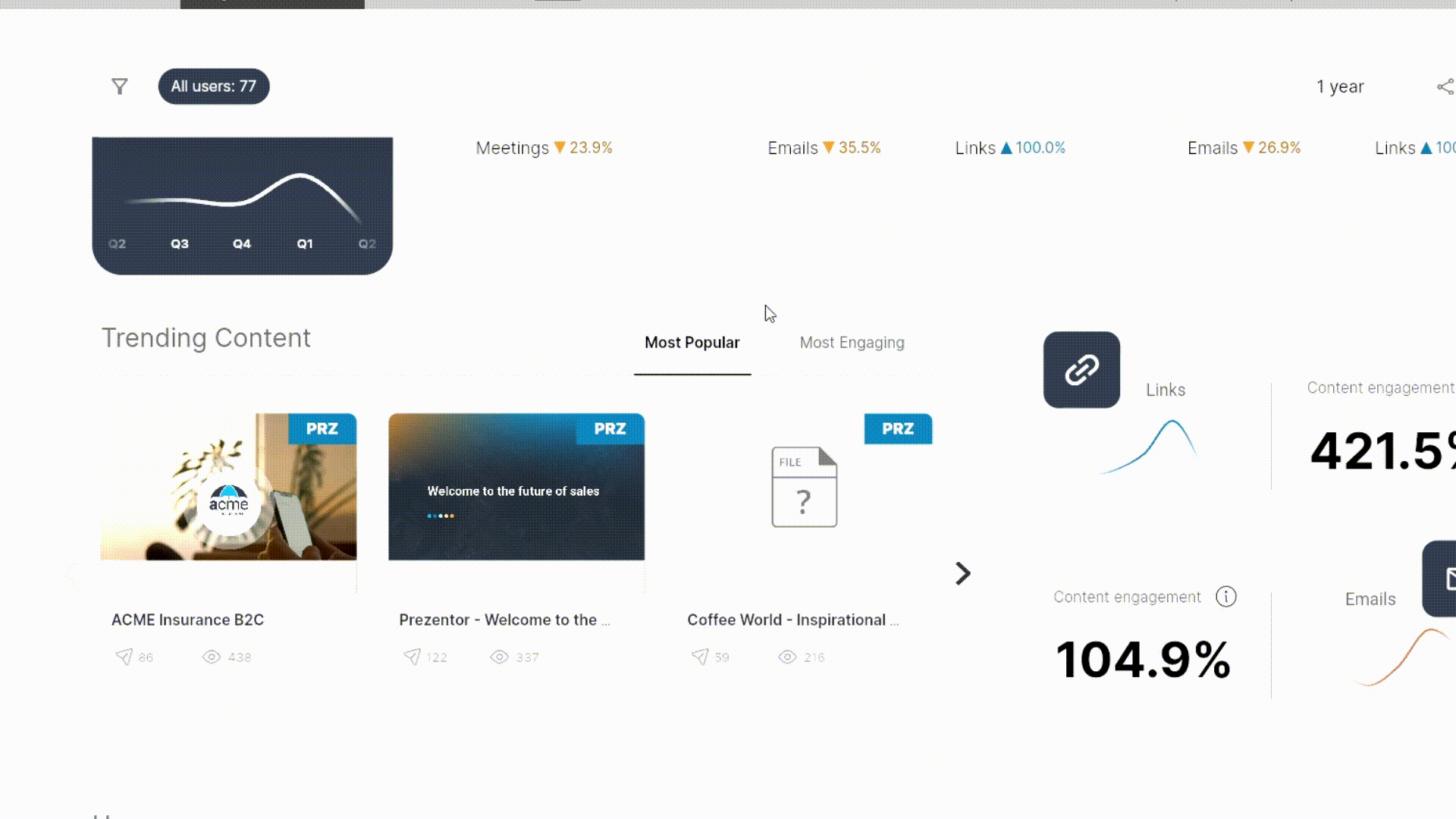 3. Content engagement by external users (CTR within the selected period on emails and links shared by the selected user unit).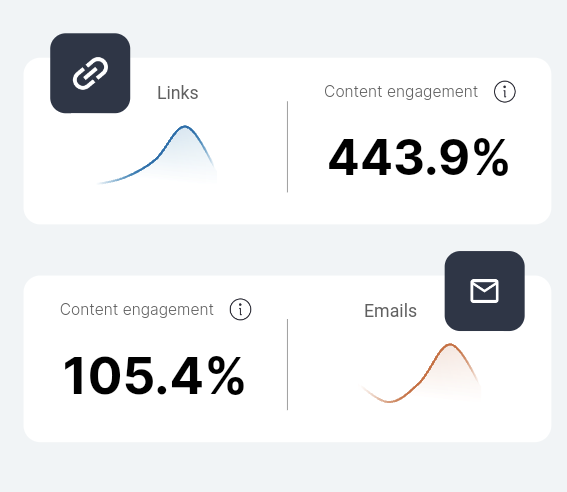 4. Top 10 active users, plus detailed stats on individual users when clicked on.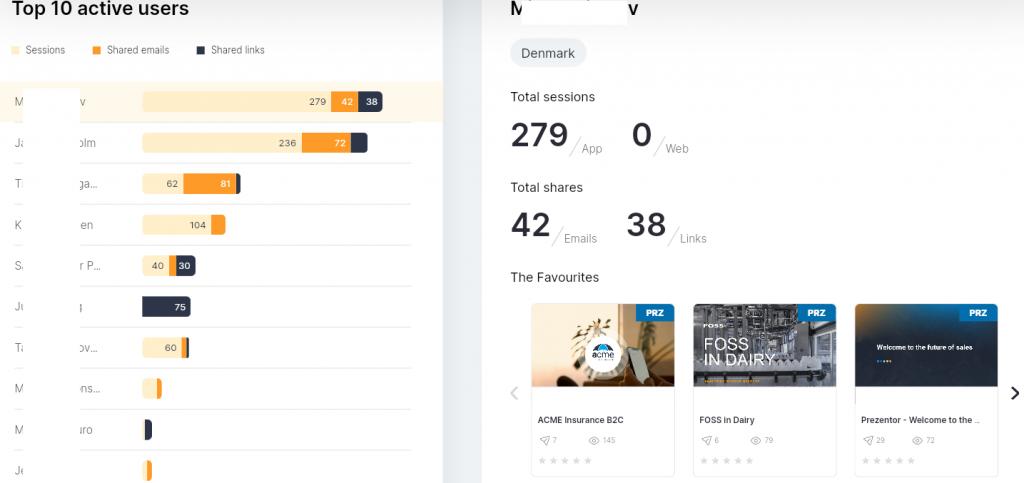 On the 'Content' tab, users can take a deep dive into content statistics.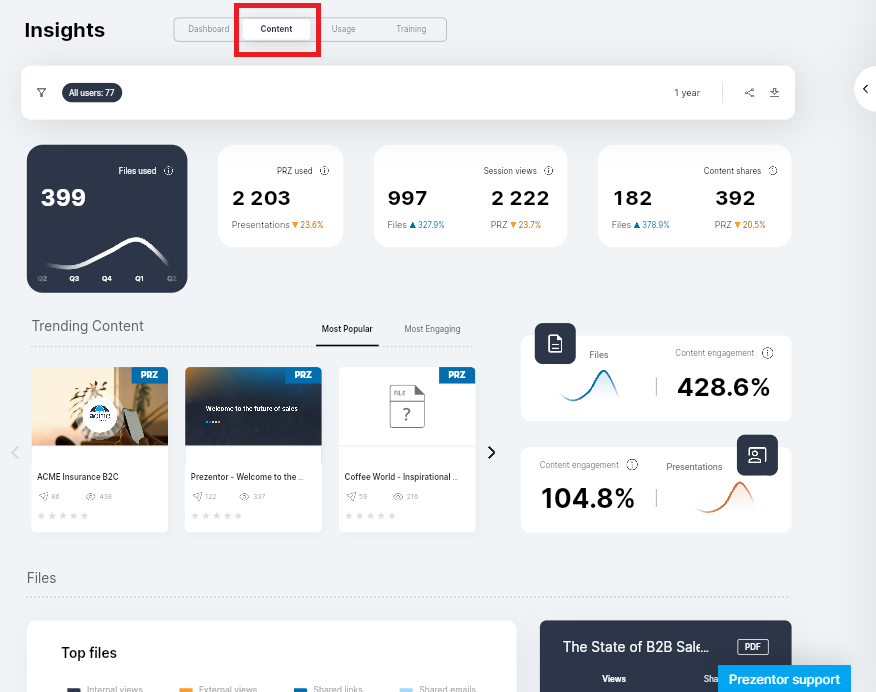 It is possible to see the top performing files and presentations and get detailed stats, such as, the pages most viewed, the average time spent on presentations, the number of times a file or presentation has been shared and viewed, etc.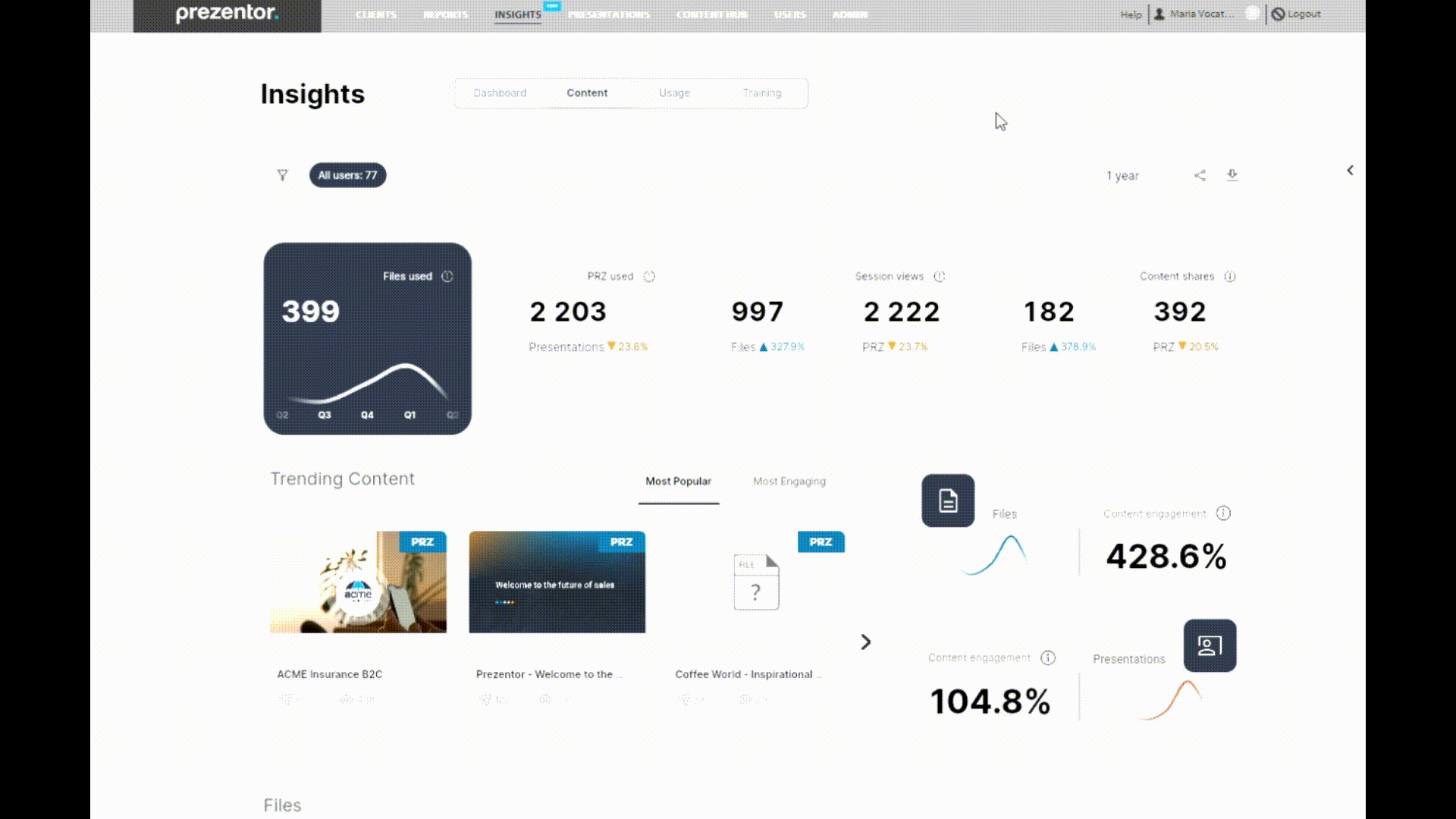 Prezentor Insights is a precious tool that complements the various features Prezentor has to offer to accompany its customers on their sales enablement journey.
This is only the first of a series of improvements and new releases coming soon for all our customers. Don't miss out on the advantages of Prezentor sales enablement platform – talk to one of our experts to find out more!