SMTP for Microsoft Office 365 (Simple Mail Transfer Protocol) is the time-saving tool all sales reps need to know about. Have you ever noticed how time-consuming switching back and forth from your sales enablement platform and your email is? Manually shifting from your email account to your sales platform takes up valuable time that could be spent selling.
On average, nearly two-thirds of a rep's time is spent in administrative activities instead of selling. Yet, we all know email is an important part of selling. In fact, 8 out of 10 prospects prefer to talk to sales reps via email. So what can sales reps use to save time emailing while leveraging the benefits of a sales enablement platform? Well, a great sales enablement platform will allow you to integrate your email account with the platform itself, making it all one in the same.
For example, some sales enablement platforms use SMTP for Microsoft Office 365. This integration saves time by combining the content management tools of sales enablement technology with an email account. In this article, we're covering just how impactful and time-saving SMTP for Microsoft Office 365 is for sales reps.
Increase Time Spent Selling
Sales reps spend a lot of time searching for content and then personalizing it before sending to their prospects. However, sales enablement technology allows sales reps to access the right content at the right time in the buyer's journey, at the touch of a button. What's more is that the right sales enablement technology will make all of this possible directly within the sales person's email inbox! This drastically decreases the time spent searching and transforms it into time spent selling.
For instance, using SMTP for Microsoft Office 365 enables sales reps to choose the materials they'd like to send to a prospect. Then, without leaving their inbox, they can customize their materials to directly reflect the prospect and their needs. By integrating the sales enablement platform with the email inbox, customer data is pulled from the platform serving up personalized content that is ready to deliver.
Decrease Time Spent Switching
Using a sales enablement platform that incorporates SMTP for Microsoft Office 365 allows sales reps to send emails from the platform itself while appearing as though the email came directly from their Microsoft account. For instance, sales reps are able to send materials straight from the sales enablement platform while using their work email address. Since the SMTP for Microsoft Office 365 seamlessly integrates with the sales enablement platform, any email sent out via the platform or the Microsoft account, will appear in both places: the platform and the inbox.
This enables sales reps to work wherever is easier for them. Reps can send materials through the sales enablement platform and when a prospect emails back, they can respond either in the platform or through their Microsoft inbox. Essentially, no matter where the sales rep is working — the inbox or the platform — they are enabled to quickly and easily send emails so they can work and sell more efficiently.
Gain Insights for Time Better Spent
Sure, it's nice to know when a prospect opened your last email. But wouldn't it be even better if you could gain insight as to how long the recipient engaged with the content within your email? Or how long the person spent on each slide within the deck you shared? All of this is possible with a SMTP for Microsoft Office 365 integration and helps sales reps deepen their understanding of the prospect.
The right sales enablement platform will provide email analytics to help sales reps understand what's working and what isn't at each stage of the sales process. For instance, a sales rep can pull their performance over the last 30 days to better understand which follow-up materials work to propel their leads to the next stage of the sales cycle versus the materials that go hardly opened. Seeing these content engagement analytics helps to inform the rep in terms of the content they should grab and send after each buyer interaction. Thus, reps will be able to decrease time spent wondering and increase sales velocity.
Step-by-step instructions to implement SMTP for Microsoft Office 365 with Prezentor
Integrating SMTP for Microsoft Office 365 with Prezentor is a very simple process. Take a look at the step-by-step instructions below to learn how it's done.
With the SMTP for Microsoft Office 365 feature, you are able to send emails to your clients and prospects in the Prezentor app as usual. But now, you can see these sent emails both in your Prezentor "Mails" section, as well as the "Sent" folder of your regular Microsoft email service, for example Outlook. To access this feature, download the latest version of the app (desktop or iPad). You should receive a dialogue box with a download link when you sign into the app.
Download the App by clicking here. 
To begin, within the Prezentor app, simply navigate to "Settings" —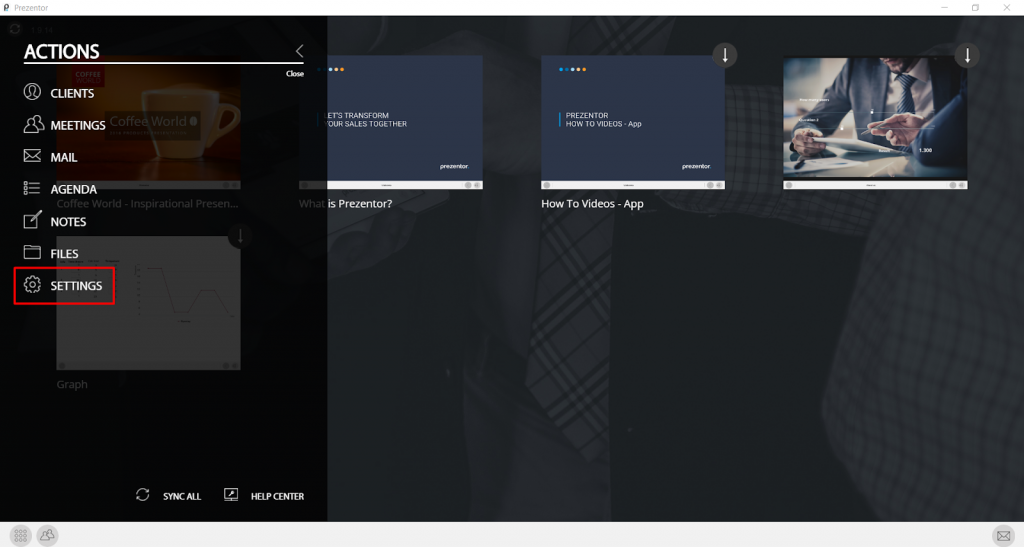 And then press "Email settings" —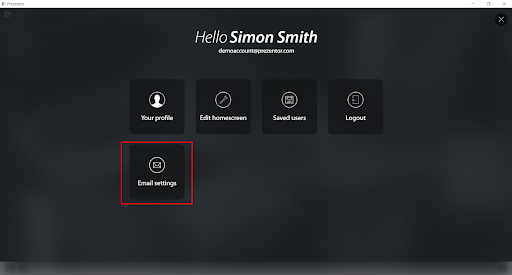 Click on the word "Microsoft" which will cause a dialogue box to pop up —
Sign into your Microsoft account with your regular email login details —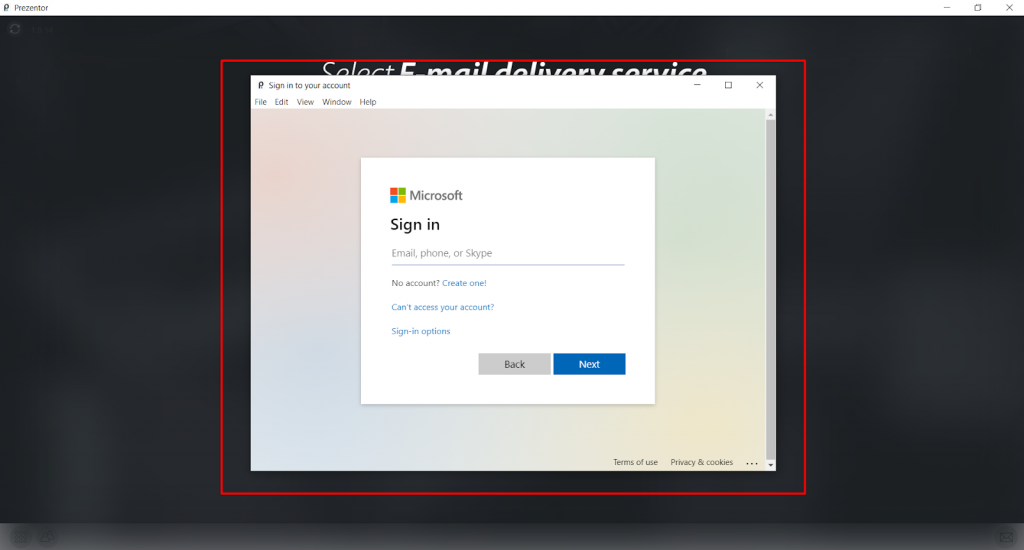 Finally, the setup is complete! You can now send emails as usual in Prezentor and receive a copy of them in your Microsoft "Sent" folder.
The SMTP for Microsoft Office 365 feature saves time so sales reps can focus on what they do best: selling. Forget the hassle of manually shifting from your sales enablement technology to your inbox or chasing down relevant content. With Prezentor, you save valuable time, optimize your sales cycles, and "wow" your buyers at every turn.
Are you ready to amplify your sales? Request a demo with our team.