Implementing a sales enablement content strategy has proven to increase the win rate by 27.1 percent – Miller Heiman Group. Before we delve into how you can create a sales enablement content strategy and Program, let us first uncover what sales enablement is. 
What is Sales Enablement?
Sales enablement is the people, processes, technology and data that enables your sales organisation to sell at a higher velocity and more effectively. It is about increasing sales and productivity with the same people, same company, same products and services, but with a different approach.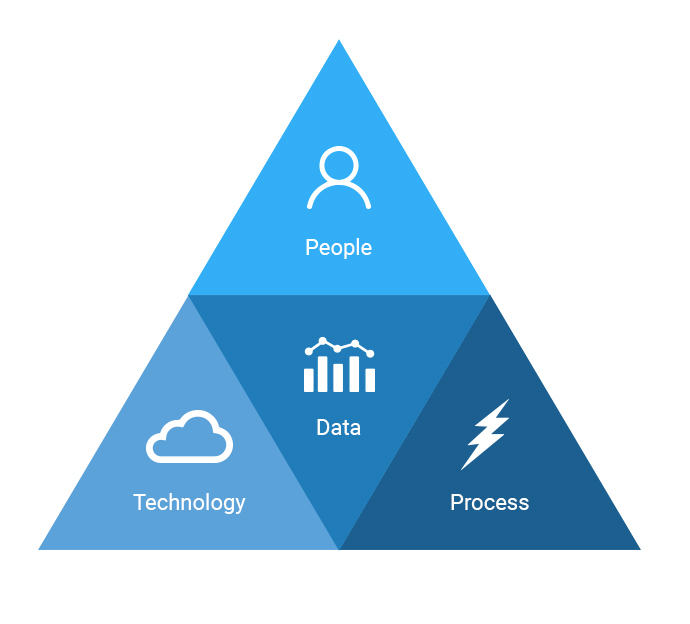 Sales enablement is a strategic collaborative discipline designed to increase predictable sales results. By providing consistent scalable enablement services it allows customer facing professionals and their managers to add value in every customer interaction. 
A sales enablement tool will go hand-in-hand with your CRM system. An ideal tool will automatically input your data from before, during and after your sales meetings into your CRM system. In theory, with the right platform, you will be able to save time by not having to manually enter data into your CRM system. 
This ensures high quality data and makes your sales organisation more intelligent and more professional.    
The best tools will enable your sales force to improve the sales dialogue and engage the buyer throughout the decision making process. It will align sales and marketing, boost overall sales intelligence, and increase productivity.
We asked over 400 sales reps how they spend their time in sales. 93% of sales reps believe they could work more effectively in their sales. In a world where time is money, you do not want to do tasks that can be done automatically. This could be spending less time on preparing your meetings. You could be more present in the meeting, not having to take notes manually. Your notes would automatically be added to your CRM system. Saving time means you can work more effectively and increase your conversion rate.
Why is Sales Enablement important?
Sales enablement is important because salespeople only spend 32 percent of their time actually selling – Miller Heiman Group. Sales enablement helps your sales force to have a more effective sales process and increase your win-rate. A proper sales enablement strategy will automate CRM related tasks. It will provide your sales reps with continuous coaching and the content needed to engage the buyer and giving them more time to actually sell.  
Enabling your sales force is about focusing on selling and minimizing administrative tasks. Best practices and optimized sales content will provide a great foundation for new sales reps to succeed. This is a great, hands-off way for your sales leaders to let new sales reps hit the ground running, ensuring that they're immediately getting trained on-the-go simply by learning how to use the software.
Having a sales enablement content strategy can help onboard new sales reps faster as well as making less productive sales reps more effective. This is because a great sales enablement tool provides sales reps with everything needed to engage the buyer in the buying process. It gives vital seller insights that can be used to coach sales reps on a daily basis based on sales analytics. Buyer insights that will show you what to focus on going forward in the process. 
Sales Automation
Sales enablement is important because automation makes managing your meetings before, during and after a smooth process. Automatically feeding the sales meeting interactions into your CRM system, lets your sales reps focus on selling.
A sales enablement platform will be able to keep all sales-related materials in one place. This way your sales reps will be able to view and keep track of all material that can be used. This is a great system for sales reps who tend to stick to "tried and tested" methods like hard copy brochures. They will have all the documents that would normally be over-stuffed into a bag, right in one place and neatly listed. In this way, they can pick, choose, insert and retract everything that is available to them during their sales process. Your whole sales process will this way become much smoother and more ingrained.
Who owns Sales Enablement?
Sales enablement has reached a maturity level that some organisations have started to establish sales enablement departments. However, many companies are still in the early stages, which is why many people want to know; who owns sales enablement? 
The answer will depend on your organisations unique structure, size, number of sales reps, resources, overall strategy and goals. In this context we have already established that sales enablement is about aligning marketing and sales, but depending on your organisations unique circumstance and possibilities, who is responsible and accountable for sales enablement will vary. 
It is important to note that sales enablement content play a big part here. Content is a big investment with many different departments contributing. Yet, only 28.1 percent of companies know how much they invest in content. Having a formal sales enablement strategy with clear accountability and truly understanding the overall investment will set you up for success. 
Marketing owns SE
If marketing owns sales enablement, you will most likely ensure full commitment from marketing in the sales content creation with a focus on the buyer's needs and wants. Marketing will want to gain insight into the performance of the sales content in order to continuously improve it. This will also ensure alignment between sales and marketing with emphasis on brand control and effective sales content. 
The downside is that your marketing might not have full knowledge of what content your sales force needs and what works in the everyday sales process. You risk that it becomes a time consuming task for marketing that might result in beautiful content, but lack the precision to close sales.  
Sales owns SE
If sales owns sales enablement, you will likely get more buy in from your sales force and sales leaders as they would be responsible and accountable for their own productivity and optimisation. The added benefit is that your sales force and customer facing professionals has the best knowledge within your company of what your customers want and need. 
The drawback is however that you risk content anarchy that can result in varying messages communicated to clients with very little brand control.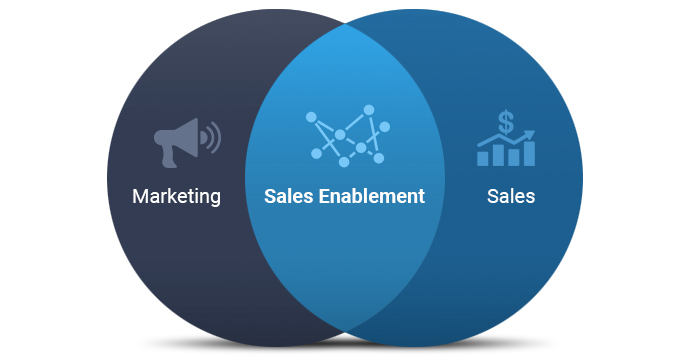 Sales Enablement owns SE
In an ideal scenario, if you have the resources, your sales enablement leaders owns sales enablement. While sales enablement might not have the entire content budget, they will have the best overview to the most cost-effective content strategy. This with set you up for long-term success, because given its cross-functionality department it does not have the bias that your sales and marketing will have. It will ensure sales and marketing alignment with the best of both worlds. It will imply that your sales enablement leader is 
responsible and accountable for implementing and managing all sales enablement tools, which include the content, training and coaching your sales force needs to 
sell at a higher velocity and more effectively. 
How is Sales Enablement practiced?
When you want to implement sales enablement into your organisation, the first thing you need is clarity. An overall strategy of what you want to achieve, which platform and tools do you want to work with so it is an integrated part of the whole. 
You need a willingness and acceptance within the company to align sales and marketing. You have to establish how are you going to work together; sales, marketing, customer success, product management. How are you going to have governance? Are you going to build a sales enablement department?
"Only 31.8 percent of organisations has a sales enablement content strategy." – Miller Heiman Group.
Second, you need to know what results you want to achieve. How do you support and enable your sales force and other customer facing employees on the buyer journey, so you create value in the entire journey? How do you ensure that training, coaching, content and tools are connected so customer facing employees can perform and deliver. 
Sales Enablement Content
According to Miller Heiman Group only 31.8 percent of organisations has a sales enablement content strategy. A previously mentioned, implementing a sales enablement content strategy can increase your win rate by 27.1 percent. 
A Sales Enablement Content Strategy should define your purpose of having content. Likewise it should define the goals your content should help achieve and how your content should be designed, created and managed. 
"A sales enablement content strategy can increase your win rate by 27.1 percent." – Miller Heiman Group.
Your content will vary depending on what type of product and service you sell. Your content can include presentations, case studies, competitor comparisons, one-pagers, product sheets, impact calculators, roi calculators, proposal templates, contracts, white papers, sales scripts, email templates, and much more. 
Customer-facing content that needs the greatest improvement (Miller Heiman Group):
Presentations
ROI justification assets
Case studies
Collateral
Value messaging guidelines

Competitive comparisons
Objection handling guides
Playbooks
It is important that sales and marketing are aligned in this process. Having a formal approach is the way to go! According to Miller Heiman Group, you are 5 times more likely to have a content strategy by having a formal approach as opposed to an informal approach. 
It is not easy to develop a content strategy, but the benefits are very significant. You will have to use trial and error and track what works. 
"You are 5 times more likely to have a content strategy by having a formal approach as opposed to an informal approach" – Miller Heiman Group.
Buyer insights and improving your content
Once you have a sales enablement content strategy in place, it is important to get insights into the effectiveness of your content. You can do this by surveying your sales reps and sales managers, but be aware of their bias. It won't be completely objective. 
If you already use a sales enablement tool you should be able to gather useful sales analytics. For example, tracking usage that gives you insight into what is being used by your sales reps. Likewise when you send material to the buyer, you want to get insight into what they looks at. That way you can qualify leads faster based on their engagement with you sales content. 
The best types of sales enablement software will make it very clear to your sales reps exactly what part of the content the client was most interested in. This provides your sales reps with a direct line of what to focus on when they make the next contact. 
Your marketing leaders will be able to see a summarized report of how clients are interacting with your content. This provides you with immediate insight into what specifically needs to be changed around. You can find all-in-one platform for this insight as well as integrate several softwares to collect this data. 
Coaching and training
Make sure that the insights enables you to also collect valuable information about your sales reps interactions. This insight will allow you to connect it to your sales reps performance and develop best practices. By using the best practices you are turning sales into a science that can be thought to the least productive sales reps. 
Creating a SE Content Strategy and Program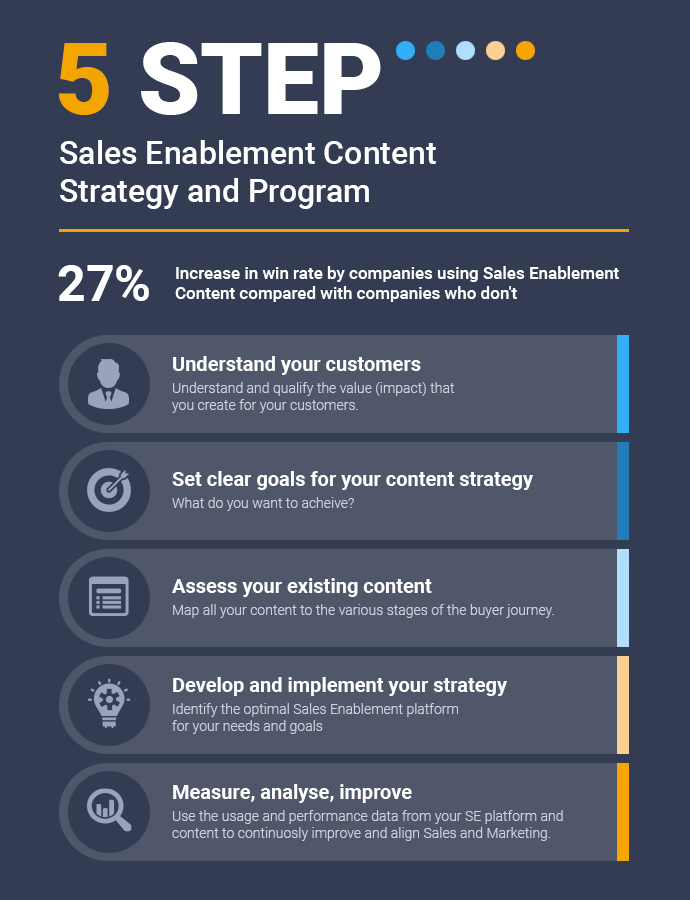 1. Understand your customers
Map the customer journey from your buyer's perspective.
Understand how your customers want to buy today and in the future.
Understand and quantify the value (impact) that you create for your customers. 
2. Set clear goals for your content strategy
What do you want to achieve?
Common goals include: 
Increase win rate for sales opportunities
Improve customer experience
Increase available selling time
Decrease new person ramp-up time
Reduce sales cycle length
3. Assess your existing content
Determine who creates all the content currently used by sales (marketing, sales operations, legal, product management, etc.).
Appoint one sales content responsible function (person/team depending on your size).
Map all your content to the various stages of the buyer journey – what is good, what needs to be improved/scraped/redone in order to reach your goals (be critical and think digital).
4. Develop and implement your strategy
Identify the optimal Sales Enablement platform for your needs and goals.
Develop the necessary new content – focus on communicating value.
Involve selected sales reps and managers in all steps of the process.
Test on a small group before full roll-out.
5. Measure, analyse, improve
From project to program
Measure, analyse, improve, repeat
Use the usage and performance data from your Sales Enablement platform and content to continuously improve and align sales and marketing, and sell more!
Remember, dare to try new things, it is a journey!
Sales Enablement Content summerized
To sum up, only 31.8 percent of companies has implemented a sales enablement content strategy. The organisations that have implemented a SE content strategy has increased sales by 27.1 percent. For an enterprise company with a revenue of USD 1 billion this would result in an increase in revenue of USD 271 millions. This is all done with the same people, same company, same products, by implementing a sales enablement content strategy. This leaves the question; why has the remaining 68.2 percent of companies not implemented a sales enablement content strategy?
If you want to learn more about how sales enablement can transform your sales, then join our sales enablement webinars.
In this Webcast, Sally Khallash, a behavioural decision making and buying behaviour expert will share her expertise on how decision making is affected in virtual selling. Learn to understand the (ir)rational behind your customers' buying behaviour and what some of the tools are that will help you support their decision making better and ultimately create happier customers.
Transform your Sales Now!