Sales decks and sales presentations are key to effectively closing deals. This is especially true when more than 65% of people learn best through visualization. Plus, visual presentations like sales decks are 43% more persuasive than other means of communicating a message or story.
But, B2B buyers are shown sales decks all the time. So, it's important that yours stands out.
In this article, we're diving deep into what makes a sales deck optimal. From making a positive impact on your prospects to boosting engagement and retention, we're unveiling the anatomy of a killer sales deck. If you're ready to amplify your tech stack and selling techniques, continue reading to discover the 4 aspects your deck needs to ensure success.
Your sales deck needs storytelling capabilities
First and foremost, your sales deck needs to enable you to tell captivating stories. B2B buyers don't want to buy what you do, they want to buy why you do it. For example, you could be selling the world's coolest bike. But without a story, no one would know why it's cool.
Sure, you can go on and on about the innovative features the bike has. But, a more impactful sales tactic would be to explain how this bike's unique features can help you ride up and through the Swiss Alps. So, when it comes to optimizing your sales deck, it's crucial to focus on the benefits your product brings to your customers rather than its features.
Case studies tell the story of how a product solves a problem, the impact the product has on a business, and how the value of the product drives results. Interactive, digital sales decks enable case studies to come to life. With easy to use navigation, no matter where the buyer/seller dialogue goes, the sales rep is able to move through the deck seamlessly and highlight all the pain points a prospect is facing.
Leverage customizable and personalized visualizations to engage your prospects
An effective sales deck requires personalization to meet the unique needs of each individual prospect. The right technology unlocks sales deck potential to narrow in on exactly what your buyer is interested in seeing. For instance, the product variations specific to their use case. Take a look at this example below.
In this example, the buyer is able to change the colors of the product in real time to visualize how it would look in their space. Pretty cool, huh? As the conversation between the buyer and sales rep develops, the sales rep needs the right tools to keep the deck personalized and focused on the buyer's pain points and use case. Thus, with an interactive sales deck, the rep will be able to provide the buyer with information tailored specifically to their needs in a dynamic presentation. Let's take a look at a few interactive elements that amplify the effectiveness of a sales deck.
Sales decks perform better with interactive elements that showcase value
Interactive and personalized sales decks can be up to 25% more effective in communicating a message than traditional presentations. In fact, interactive content leads to an 80% increase in buyer engagement. Take, for example, value calculators.
Value calculators not only showcase the value of your product to a buyer in real time, they also add value to the deck overall. Tools like ROI calculators, for instance, boost the impact of the sales deck and keep the buyer engaged. Plus, an ROI calculator visualizes the value prospects gain when investing in your product or service. Take a peek at the video below illustrating how an ROI calculator works.
In this video, you see an ROI calculator that shows the immediate value of purchasing the product. With just a 1% conversion rate, the prospect's sales increase by 75,000 euros per month. From here, the sales rep could even increase the conversion rate to 2% or 5% within the calculator to showcase the immense value of their product
End the deck with a bold and relevant call to action
End the deck with a bold and relevant call to action Ensuring that you have all of the above aspects in your deck is crucial to the effectiveness of the deck. However, the most important piece of a deck is the call to action (CTA). Adding a CTA such as booking a demo or starting a free trial is essential to continue moving the prospect further along in their buyer's journey.
Take a look at the screenshot below from the last slide of a presentation from Prezentor. The CTA is big, bold, and clear — start your free trial here!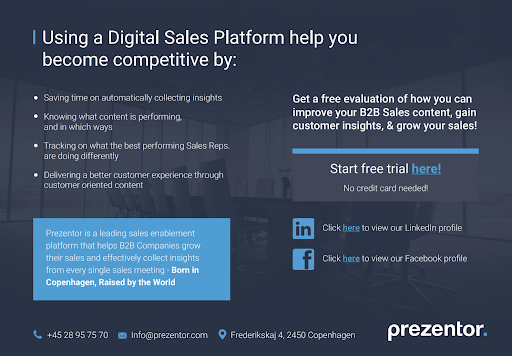 It seems as though with each coming year, sales processes become more and more digitally advanced. As we dive head-first into 2022, it's important for sales organizations to stay up to date with sales trends and tools that will propel their selling capabilities. By adopting sales enablement technologies that enable you to maximize your digital selling initiatives, you'll be able to:
Gain a competitive advantage
Increase buyer engagement
Drive sales and increase revenue
So what are you waiting for? The time to transform your sales is now. Schedule a demo of Prezentor and visualize the unmatched potential of our sales enablement platform.
With the right technology supporting you, creating a killer sales deck is easier than ever before. From storytelling capabilities to personalization and interactive elements, Prezentor is a game changer when it comes to building impactful sales decks. Try it and see for yourself! Schedule your demo today.