Today, it's more important than ever before to communicate value to B2B buyers throughout each step of the sales process. B2B buyers in 2022 aren't looking to be wowed by shiny new products and their features. Instead, B2B buyers of today are looking for a product that brings value to their daily lives. In fact, 75% of B2B buyers will purchase from a company that was first to add value.
In this article, we're teaching you how to navigate through the 4 steps it takes to effectively communicate value to B2B buyers. Let's jump in!
1. Leverage interactive ROI calculators to communicate value to B2B buyers
The first step you must take to communicate value to B2B buyers is to show it — not just talk about it. Oftentimes, sales reps get caught up in telling the buyer about the value a product can bring to their lives. In reality, the sales rep should focus on visualizing the value of a product to the buyer.
A surefire way to do so is to leverage value calculators that can illustrate a personalized and accurate ROI. ROI calculators visualize the value prospects will gain when purchasing your product or service. Take a look at the example below of an ROI calculator illustrating a pension structure.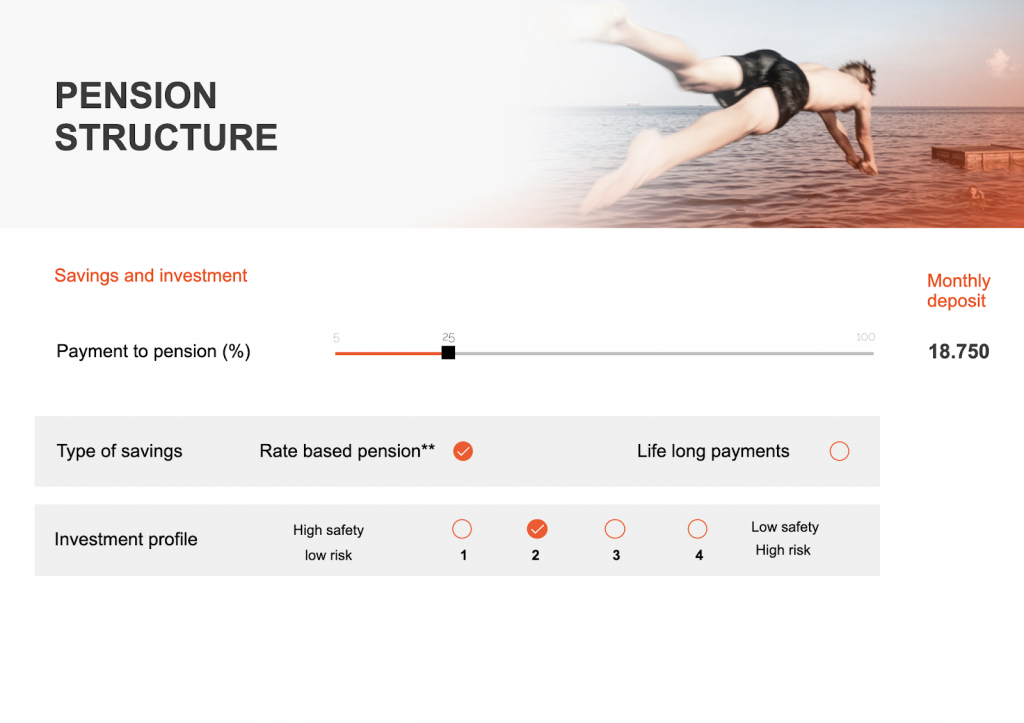 When using this ROI calculator, buyers can move the sliders in the image above to input their personal information — investment amount, etc. — into the calculator. Depending on the provided criteria, the calculator visualizes the buyer's potential ROI in real-time. Thus, the sales rep doesn't need to drone on and on about the benefits of this pension plan, the prospect can literally see the advantages! Plus, the interactive sales presentation makes talking about tedious topics like pensions fun.
2. Share impactful case studies with potential buyers
Leveraging case studies in your sales initiatives is a great way to communicate value to B2B buyers. Naturally, case studies provide value for potential buyers by showcasing insights from past and current customer success stories. Not only do prospective buyers gain the knowledge as to how your product resolved issues for a company similar to their own, they're also able to internalize how your product will solve their most pressing problems.
For example, take a look at this case story to learn how with the help of Prezentor, Saxo Bank was able to:
Simplify complex topics
Boil down a significant amount of information into a visually engaging topic
Engage in a dynamic dialogue with buyers via the Prezentor platform
3. Feature client testimonials on current sales collateral
One of the best ways to communicate value to B2B buyers is to highlight what current and past customers think of your product. Leveraging your customers' opinions is an impactful way to strike a positive cord with your buyers.
To do this effectively, start by featuring customer testimonials on your website, sales collateral, and marketing materials. These testimonials increase your company's credibility and showcase the positive impact that your company brings to a certain niche market. Take a look at the example below from Prezentor customer, Dennis Hald Hvidtved, Chief of Online Sales at Tryg:
"Our immediate sales increased, so that is a win-win for all. The customer does not waste extra time during the meeting and we do not waste additional time after the meeting. Our customer satisfaction is rising. You do not even need to see the numbers to know it. When the advisors start to feel it themselves, then you know you have found something that works."
4. Provide the right content at the right time to support the buyer's journey
Lastly, it's important to communicate value to B2B buyers at each stage of their purchasing journey. Having a deep understanding of the buyer's journey and being able to identify which stage your buyers are at in their journey is key to effectively communicating value. This is due to the fact that at each stage (awareness, consideration, and decision) the buyer is looking for specific information. Let's break down the buyer's journey and discuss which pieces of content are right to share in each stage.
Awareness: In this stage, the buyer is aware that they have a problem but they're not quite sure how to solve it. The best way to attract buyers in the awareness stage is to produce content such as articles, blogs, social media posts, etc. that addresses their pain points.
Consideration: In the consideration stage, the prospect knows they have a problem and understands that your solution can help. By sharing content like research reports, inviting them to attend the next online webinar or event your company is hosting, and sharing use case overviews, you're enabling the buyer with relevant and useful information.
Decision: At this stage, the buyer is ready to make a purchasing decision. One impactful piece of content for the decision stage would be competitive analyses. This will serve as one last effort to help them cross your competitors off their short list!
With the right technology supporting your sales initiatives, it's easy to communicate value to B2B buyers. And with Prezentor's sales enablement platform, communicating value to buyers is even easier.
Request a personalized demo today and transform your sales process.