The sales enablement platform market is expected to keep growing in 2023, as more and more people across the globe turn to this solution in the hope of increasing their sales. When implemented well, a sales enablement strategy will improve both your customers' and your sellers' experience, and ultimately increase your revenue. Sounds appealing, right? But with so much information on the topic, and so many tools available on the market, it is normal to wonder: how to get started with Sales Enablement? No need to worry – this blog post is here to guide your first steps.
Sales Enablement is the people, processes,
technology and data that enable your sales
organization to sell at a higher velocity and more effectively.
Who is the Sales Enablement Team?
Before even starting to think about a Sales Enablement strategy, one questions springs to mind: who is responsible for Sales Enablement? Should it be Marketing? Sales? Both? Neither??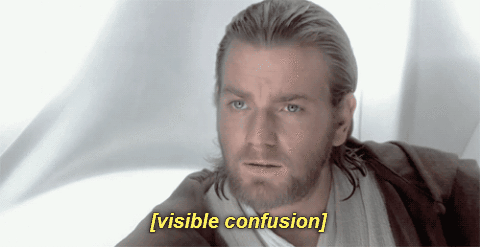 Sales Enablement is about aligning Marketing and Sales. Research shows that businesses with Marketing and Sales alignment experience 36% higher customer retention and more business growth. It is all about communication and collaboration: working together to achieve common goals.
Sales enablement has reached such a maturity level, that some organisations have started to establish sales enablement departments. However, many companies are still in the early stages, which is why many people want to know: who owns sales enablement?

The answer to this question will depend on your organisation's unique structure, size, number of sales reps, resources, overall strategy, and goals. Where it is not possible to have a dedicated team for sales enablement, the best solution would be to divide tasks between Marketing and Sales, so each team can contribute with their area of expertise.
"When it comes to sales enablement, the best organizational rule is that marketing is a better creator and sales is a better enforcer."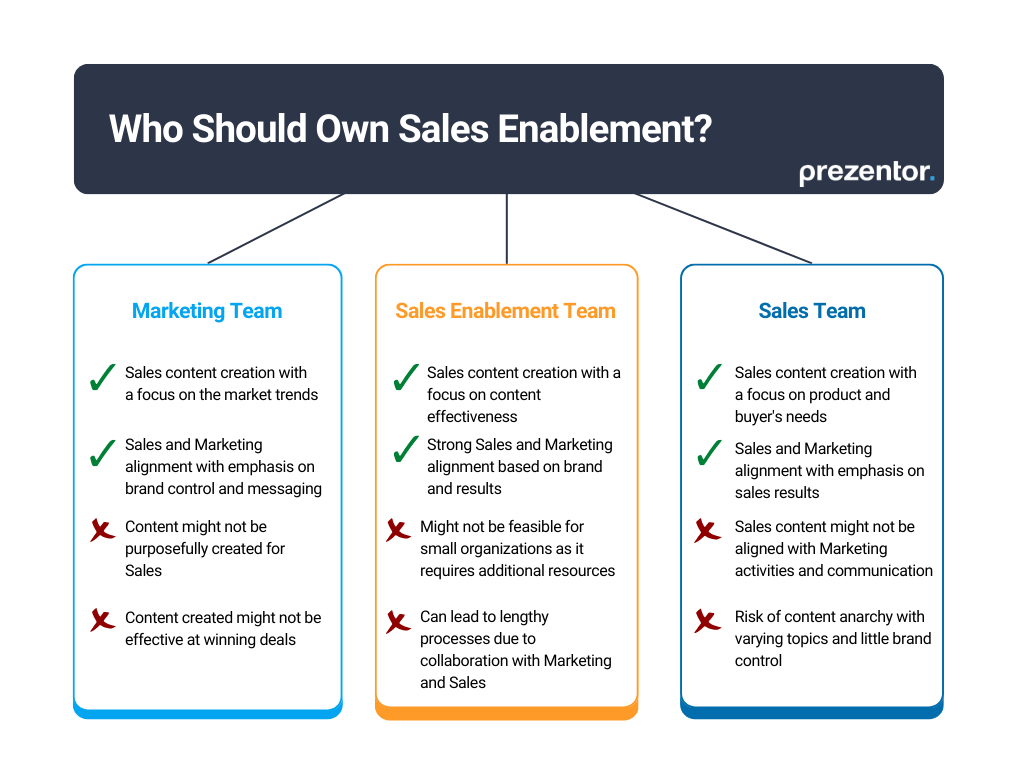 Ultimately, regardless of who owns sales enablement, it is important to ensure good communication and collaboration not just between Sales and Marketing, but across all of your organization's departments, to make sure the sales enablement plan is enforced.
How Do You Build a Sales Enablement Strategy?
The first step for getting started with sales enablement is outlining a clear sales enablement strategy. This may seem like a daunting task but don't worry, we are here to guide you step by step and to show you that it is definitely worth the effort.
Step 1: define clear, measurable goals
Step 2: assess and organize your content
Step 3: create your sales enablement playbook
Step 4: standardize training and onboarding
Step 5: build your tech stack
Step 6: measure your results
You might be surprised to find out that there are a few actions you can easily take to set your organization onto the sales enablement path, even before considering investing in any new technology or other resources.
Start from Content:
Assess the quality of your existing content
Establish if new content is needed and, if so, who should be in charge of content creation
Organize content in a way that makes sense for both Sales and Marketing, so everyone can easily find what they need
After this assessment, start doing some research on what sales enablement tools can assist you in content creation and management, and decide if it is worth investing in them.
What Are Sales Enablement Assets?
There are several types of content pieces that can constitute an organization's sales enablement assets. These can be grouped into three main clusters: internally used content, assets to share with buyers, informative content.
These are assets used by the sellers within the company to perform their daily tasks. They have the purpose to guide sellers and/or facilitate their work, and can include:
E-mail templates
Buyer personas
Training material
Sales playbook
Content to share with buyers
These are the materials that help sellers showcase value in a sales meeting. Their purpose is to pitch your offer and move leads down the sales funnel and towards the closing stage of the deal. They can include:
Interactive presentations
ROI calculators
Case studies
Testimonials
Quotes
These are pieces of content that are aimed at a low-intent audience, i.e., top-of-funnel consumers who are still in the information-searching stage. The purpose of this type of content is to create brand awareness, increase your organization's credibility, and build a reputation as industry experts. They are also great for driving traffic to your website and improve your SEO ranking. They can include:
Educational blog posts
Reports
Guides and e-books
Infographics
Webinars
Explainer videos
How Do You Build a Sales Enablement Tech Stack?
Now that you are successfully getting started with sales enablement, it is time to build your tech stack.
When choosing your sales enablement tech stack, you need to know which areas are most important for you, so that you know what to prioritize. In general, sales enablement tools should:
Allow you to follow the entire sales process from the prospect stage to the closing stage
Connect sales and marketing with the content they need
Track analytics and content usage
Speed up and simplify training and onboarding
In this article, we have tried to answer some of the questions that might arise when getting started with sales enablement, and to break what may seem like a daunting process into small, actionable steps.
In summary, here's what you should do to get started with sales enablement:
Establish who should own sales enablement. There is no right or wrong answer to this question, and it comes down to what makes sense for the way your organization is structured. Decide who should be in charge of what, but always make sure there is good alignment and clear communication across all departments.
Set clear, achievable, and measurable goals
Assess the resources you already have, and identify areas of improvement
Decide if you need to invest in sales enablement tools
Do your research to find the tools that are most suited to your goals