Sales productivity refers to the efficiency and effectiveness of a sales rep. Are they achieving their goals? If yes, how long is it taking them to hit their target? If not, what's holding them back? Understanding the productivity of sales reps allows sales managers to better train each rep based on their current skill set. Basically, the purpose of bolstering sales productivity is to maximize efficiency by reducing time, cost, and energy throughout the sales cycle while ensuring effectiveness by enabling sales reps to achieve the best outcomes in each buyer scenario. Research shows that only 24.3% of sales reps surpassed their sales goals in 2020.
Now is the time to step up your game by boosting sales productivity. In this article, we're defining the sales productivity metrics sales managers should stay on top of to drive revenue.
Sales efficiency vs. sales effectiveness
Although they go hand in hand, sales efficiency and sales effectiveness are different. Sales efficiency relates to improving the way a sales rep spends their time. For instance, an efficient sales rep will spend most of their time on high-impact versus low-impact tasks. High-impact tasks move deals forward and are acts such as call preparation or hosting a sales meeting. Whereas low-impact tasks are administrative tasks that don't directly move a deal forward.
On the other hand, sales effectiveness is all about a rep's ability to drive revenue. It's about turning all buyer interactions into quality engagements. Thus, sales effectiveness increases the likelihood of converting a sale at every stage of the sales cycle. Effective sales reps drive towards the best outcomes in every scenario using the tools they have at their disposal. This includes sales content, a sales enablement platform, the CRM, and coaching from their sales manager.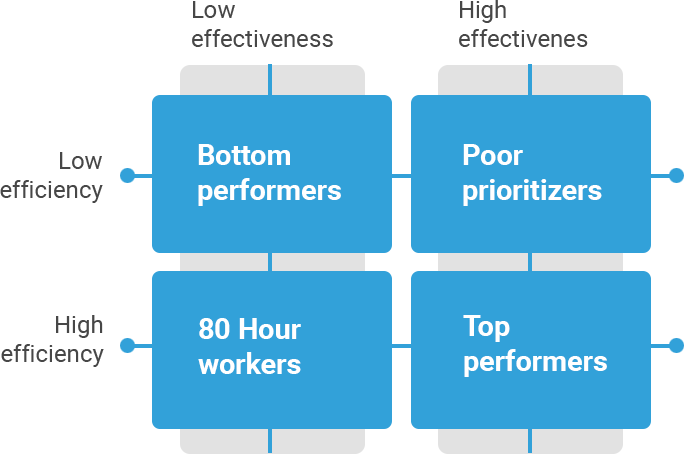 Together, sales efficiency and effectiveness create sales productivity. When it comes to productivity, there are four types of sales reps:
First, we have the bottom performers. They struggle to prioritize the right tasks and lack the ability to perform them well, which leads to low efficiency and low effectiveness.
Next, there are the 80-hour workers who experience high effectiveness but low efficiency. These sales reps often burn out from overworking themselves.
Then, we have poor prioritizers. These sales reps spend too much time seeking success on low-impact tasks leading to high efficiency and low effectiveness.
Finally, there are the top performers. These sales reps achieve the best outcomes in high-impact tasks which leads to high efficiency and high effectiveness.
Ultimately, to achieve high sales productivity, sales reps need to prioritize high-impact activities with the right leads at the right times.
Why is sales productivity important?
It's a simple fact — high sales productivity increases revenue. 79% of sales leaders say improving the productivity of sales reps helps their team better hit their target goals. Sales productivity is important to consider when looking for solutions to improve a sales team's revenue-driving capabilities.
Furthermore, understanding the productivity of all sales reps helps identify the top sellers from those that are falling short. Sales managers can then use these insights to determine where and why certain sales reps are underperforming. With the right coaching, the entire sales team (even top performers) can refine their skills and share ways to boost efficiency and/or effectiveness where needed. Now, let's dive into the best practices for measuring sales productivity.
How to measure sales productivity
Measuring sales productivity is based on three categories: efficiency, effectiveness, and performance. The right sales enablement technology will provide sales managers with the insights they need to measure how sales reps are using their time. Are their activities actually driving revenue? What are they spending the most time doing? How can each rep's time be better spent? All of these questions can be answered by measuring sales productivity. Let's take a look at the 4 steps below.
1. Audit your team's current performance
The first step to boosting sales productivity is to determine your sales team's current performance. Why? You have to start somewhere, right? Knowing where your team currently stands will help you understand their current strengths and weaknesses. From here, you can build upon the skills they already have and improve on the skills they're struggling with.
Next, take into consideration all sales duties such as call preparation, email creation, content positioning, CRM updates, and proposal generation. How many proposals is your team writing per week? What's the average open rate of each rep's sent emails? Using sales enablement software, you can find this data and use it to your advantage to develop a training plan for success.
2. Determine high-impact activities vs. low-impact activities
Next, it's important to segment high-impact tasks from low-impact tasks. Doing so will better help your team prioritize their daily tasks. The idea is to balance both high and low-impact tasks so that prospects move along the buyer's journey while the rep is able to stay organized at each stage. Let's take a look at high-impact activities versus low-impact activities.
High-impact activities enable increased sales velocity, personalized buyer interactions, and streamlined sales operations:
Target account research
Sales preparation (meeting and call prep)
Generating dynamic meeting sales presentations
Proactive data analysis
Meeting with marketing
Low-impact activities are usually admin tasks (dull, but necessary!) that keep the sales cycle organized:
CRM updates
Searching for content
Tracking and logging time
Generating expense reports
Entering customer data
One of the best ways to help your sales reps improve their sales productivity is to automate low-impact tasks with sales enablement technology. The right technology will house all updated sales materials in one central location allowing sales reps to access the content they need when they need it. Furthermore, sales enablement technology will also automatically sync activities, content engagement, and more directly with your CRM and provide reports to help sales managers make data-driven decisions moving forward.
3. Discern urgency amongst tasks
Urgency is a characteristic used by sales managers to help their team define and prioritize tasks based on the likelihood of a task driving revenue. Let's take a look at a few examples of low- and high-urgency tasks.
Primarily, tasks that are most urgent will also be high-impact. Creating a personalized follow-up email is an example of a high-impact, urgent task. This is because follow up emails foster a relationship between the buyer and seller and further move the buyer along their purchase journey. Therefore, if performed with urgency, follow up emails are likely to drive revenue.
Next, an example of an urgent low-impact activity is updating the CRM. Old, incomplete, or incorrect data harms the entire organization. While updating the database doesn't directly drive revenue, maintaining clean data is crucial to business success. Dirty data can wreak havoc on your sales and marketing initiatives leading to inaccurate results and poor prospecting efforts.
4. Infuse best practices into future sales training
Finally, the three steps mentioned above will help you to understand when, where, and how your top performers are doing well in the sales cycle. These steps will also aid in determining where your lowest performing sales reps need to improve. From here, you can take this knowledge and incorporate it into future training sessions to boost the sales productivity of your entire team.
Now that you know how to understand your team's sales productivity, it's important to enhance your sales strategy with what you learn. By automating your team's burdensome, low-impact tasks and helping to improve their performance in high-impact, urgent tasks you'll be in a better position to generate new business and drive revenue.
Schedule a demo with Prezentor to learn more about how sales enablement technology can help your team boost their sales productivity.