It comes to no surprise that Sellers need content to engage and educate buyers to create an impactful sales dialogue. Though creating high-quality content that informs buyers throughout their journey and supports Sales goals is simpler said that done.
In this article, we will outline what effective sales enablement content is, what purpose it serves, and how you can get started creating the content your Sales team dreams of.
What is Sales enablement content?
Simply put, sales enablement content is all the material that makes sellers' job easier and helps them win deals when shared with buyers. You might be wondering, what is the difference with marketing content? Marketing content is created with the intent of attracting new leads and converting them into prospects, while the purpose of sales enablement content is to turn prospects into customers. It is important, however, that Sales and Marketing are aligned and collaborate in creating sales enablement content, to ensure consistency in the messaging and tone of voice.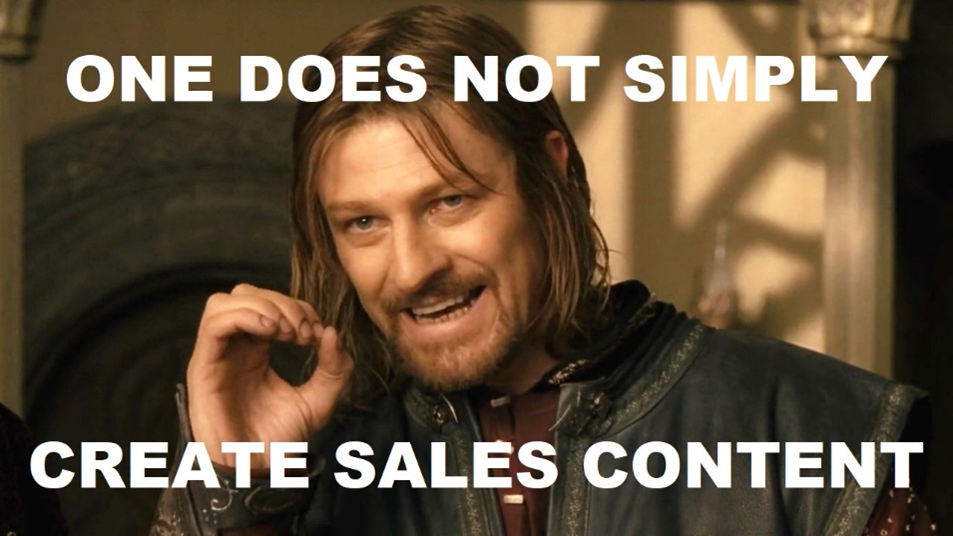 Creating effective sales enablement content is not as easy as one might think, especially considering the current economic circumstances. Companies are cutting their investments and a higher number of stakeholders are getting involved in the buying committee, which means there are more (or different) needs to satisfy and more people to convince.
To successfully help win deals, sales enablement content should:
Convey your product's value: no one wants to sit through a sales meeting and be bombarded with lots of product features and technical specs. Your prospects simply want to know what your product can do, and how it can solve a specific problem for them.
Engage customers: consumers nowadays expect brands to anticipate their needs and interests and serve them only the content and products they want. Tools like ROI calculators and interactive presentations let sellers tailor each meeting to the buyer, thus helping to keep the engagement level high.
Create dialogue: only by creating a two-way conversation with buyers can sellers uncover their needs and pain points. And with the help of interactive solutions, they can react in real time to the buyer's feedback and shape the conversation accordingly.
Create customer relationships: according to a study by PWC, 65% of consumers find a positive experience with a brand to be more influential than great advertising. When buyers feel like sellers really understand them and their needs, they are more likely to make a purchase and become loyal customers.
Help buyers make a purchase decision: buyers want to know exactly what they get from your product, how much it costs, and why it is better than competitors. They expect clear, transparent, and honest communication that doesn't make promises it cannot deliver.
Be trackable: sellers need to be able to get insights on buyers' engagement so that they know when is best to reach out to them. By tracking content, they also get a clear overview of which materials work best and which ones need improvement.
We know it sounds like a lot but in this article, we will give some sales enablement content examples and share tips that will help you create effective sales enablement content.
Examples of Sales enablement content
Sales enablement assets can be divided into 2 main categories:
Materials to be used internally by the sellers (e.g., for training purposes or for their daily tasks)
Assets that sellers share with prospects to deliver their sales pitch and help buyers make a purchase decision
Here are a few sales enablement content examples:
The sales playbook is an internal asset and one of the most important sales enablement assets. It is a manual for sellers that contains everything they need to know to do their daily job. It includes all the materials sellers can use during the sales process, together with guides and scripts for specific customer scenarios. The sales playbook ensures best practices and uniform adoption of the sales enablement strategy throughout the whole sales team.
Email templates are an important type of Sales enablement content as Sellers use emails to interact with buyers.
Having a  email templates for different situations can help Sellers save valuable time, plus it ensures consistency in your organization's communications.
Some of the purposes your email templates should cover are:
Outbound activities
Introductions starting a dialogue
Follow-ups after trade shows and events
Follow-ups after meetings
Follow-ups after demos
Objection handling
Depending on your Marketing setup emails should be aligned with the campaigns and messaging your Marketing team is activating to ensure that buyers receive one clear product and brand messaging.
Sales presentations are one of the most used selling tools to showcase product features and value during a sales meeting. Especially in virtual selling, a trend that seems to be here to stay, presentations are a vital instrument to grab and keep the buyer's attention. Interactivity can take sales presentations to the next level, by enabling sellers to quickly change the look and content in real time to respond to the buyer's inputs and personalize each interaction, thus enhancing the chances of winning a deal.
ROI calculators are another useful interactive tool that helps sellers personalize sales interactions and showcase product value. They use the specific information provided by the buyer to give tangible proof of the advantages the buyer could get from purchasing your product.
Showcasing positive reviews from satisfied customers can create trust and help fight objections from prospects. Testimonials are also a great way to increase the bond between your business and the clients providing the reviews, as it makes them feel honored and appreciated.
A good way to help your prospects visualize how your product can be used to solve their daily challenges is to provide them with use cases or case studies. Discovering the specific advantages for a particular industry or role and seeing real-life examples of how your product is used by other customers can help with the purchase decision.
Normally created and managed mainly by the marketing department, these sales enablement assets are mostly aimed at "top-of-the-funnel" prospects that are still in the information-gathering stage. Informative content can comprise blog posts, reports, guides, infographics, explainer videos, etc. These are useful to increase traffic to your website and to establish your company's reputation as an industry expert.
5 Top Tips to create Sales enablement content
To produce effective sales enablement content, remember the following 5 keywords: interactivity, personalization, value, alignment, and tracking.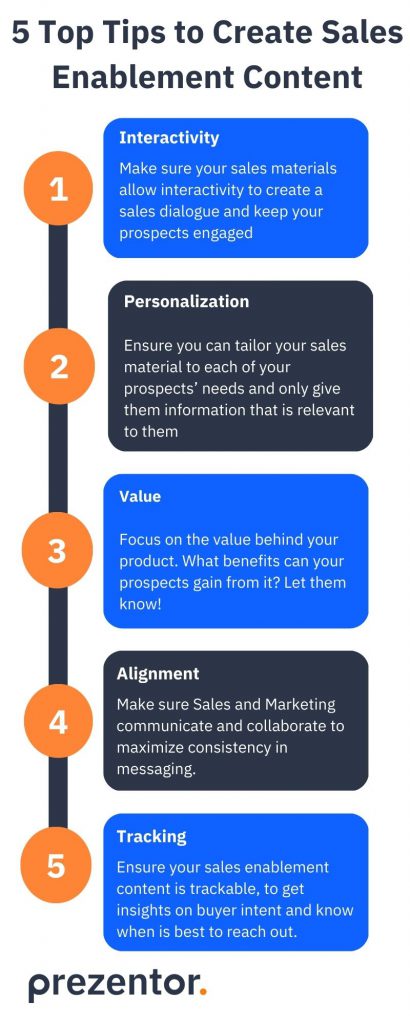 Sales enablement content is crucial for sellers, as it can greatly influence their productivity and performance, and from the point of view of the buyers, it can really make or break a deal.
We hope that these tips have been useful and that you are now ready to create your own sales enablement content! If you want to read more about sales enablement, download our guide here.